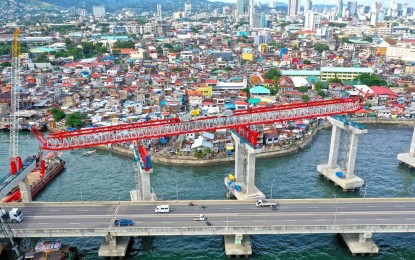 CEBU CITY – Piling works for the Cebu-Cordova Link Expressway (CCLEX) have been completed just before the year ends.
Cebu-Cordova Link Expressway Corp. (CCLEC) on Wednesday said sub-contractor Trevi Foundations Philippines Inc. has finished "all the piling works in the entire stretch" of the 8.5-kilometer, PHP30-billion bridge project.
"They have driven 494 piles. Trevi, a worldwide leader in the field of soil engineering, is responsible for the installation of deep foundations in the different segments of CCLEX," the company said in a construction update.
Company officials have said the completion of the third bridge has been moved to the end of 2021 from the original target of August 2021 due to delays caused by the pandemic.
Mayor Edgardo Labella said the reported delay in the completion of this infrastructure project is expected and understandable as some construction works had been affected by quarantine restrictions.
"Together with the company, we aim to fast track the completion of the bridge. Despite the delays caused by the pandemic, the construction has continued for the infrastructure project which is expected to boost Cebu's development in the future," the mayor said in a Cebuano statement.
Installation of the cross on top of the pylons of the CCLEX's main bridge had started.
The cross, one of the iconic features of CCLEX, will be 40 meters tall and lighted on all four sides at night. It symbolizes Cebu's significant role as the cradle of Christianity.
As of October, the overall engineering, procurement, and construction progress rate of CCLEX, one of the country's largest infrastructure projects expected to ease worsening congestion in Metro Cebu, is at 61 percent, while construction progress alone is 48 percent.
CCLEC is a subsidiary of Metro Pacific Tollways Corp., which is the tollways unit of infrastructure conglomerate Metro Pacific Investments Corp.
CCLEC is undertaking the bridge project under a joint venture agreement with Cebu City and Cordova, a municipality to the south of Mactan.
The project aims to connect Cebu City to Mactan Island through Cordova, which is connected by a bridge to Mactan.
The third bridge, once completed, will ease congestion on Marcelo Fernan Bridge and the Mandaue-Mactan Bridge, which both connect Mactan with Cebu Island. (PNA)