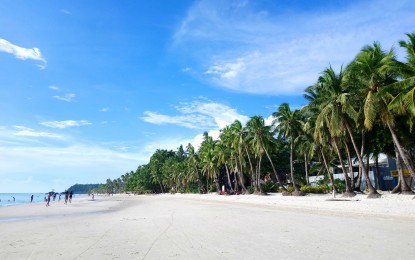 MANILA – The year 2020 is unlike any other for the country's travel industry, which by yearend, often produce record-breaking figures on revenues and arrivals.
In January, the year started with Taal's eruption, forcing thousands of people to evacuate. At that time, it was the industry's biggest challenge as it affected hundreds of flights and compelled numerous tourism establishments in Calabarzon to suspend operations.
But the worst came the following weeks as the novel coronavirus disease 2019 (Covid-19) reached the Philippines and locally-transmitted cases surfaced.
On March 16, air travel was brought to a screeching halt where people had no choice but to stay home as the government placed Luzon under lockdown.
Michelle Taylan, president of the Philippine Travel Agencies Association (PTAA), said the crisis forced all of its members to temporarily close or scale down operations.
"Our member travel agencies have been forced to pivot to other businesses to tide them over. Airlines have suffered heavy losses. Hotels were used as quarantine facilities. Tourism was at a standstill," she said in an email to the Philippine News Agency.
Amid the uncertainties this year, Taylan said the PTAA looks forward to 2021 with "a lot of optimism".
"We will still stage our annual Travel Tour Expo and International Travel Trade Expo. They will be springboards as we assist in the revival of Philippine tourism," she shared.
"We will also hold talks with other stakeholders in the tourism industry and will come out with a united front in our pursuit to further open tourism in the country," she added.
From January to November 2020, the country's tourism receipts fell by 81 percent to PHP81.05 billion, a significant drop from PHP437.9 billion in the same period in 2019.
International arrivals also dropped by 82.4 percent to 1.3 million compared to the 7.4 million recorded from January to November in 2019.
But while the coronavirus pandemic has grounded most tourism activities, the sector continues to explore ways to restart and offset the crisis's impact on tourism.
The Department of Tourism (DOT) continued to engage with relevant agencies to craft health and safety protocols that could be used when travel gradually starts.
Since April, it has successfully organized a handful of online learning courses that aim to help local tourism players become more competitive, with new knowledge, technological advances, and ways to innovate and be able to cater to a new breed of travelers.
To adapt to the travel trends due to the pandemic, the Tourism Promotions Board also developed a strategic marketing program for the medium and long-term.
"The toughest challenge was the fact that we could not promote tourism destinations the way we used to simply because they were closed to tourists. Or that we could not even promote at all. This compelled us to creatively explore ways to keep the connection with our tourists, while at the same time, gradually assist our local government units (LGUs) and our stakeholders prepare for the new normal in travel," TPB chief Anthonette Velasco said.
'Domestic tourism'
Uncertain when the foreign market will come back, the DOT banked on domestic tourism to slowly revive the sector and capitalized on the low-hanging fruit within its borders -- the local travelers.
The DOT believed that by tapping into these short-haul markets through targeted marketing, the country can "bypass some of the considerable challenges" it faced following the pandemic.
It looked at introducing travel corridors or the so-called "travel bubble" to allow the reopening of Philippine destinations with zero coronavirus disease 2019 (Covid-19) cases to foreign tourists from infection-free nations. By the second half of 2020, the DOT initiated talks with Australia, which at that time has touted a low to zero case count.
While this vision did not push through, a similar concept was applied domestically and piloted in El Nido, Palawan connecting resorts in the island to tourists from Metro Manila.
In June, the Philippines gradually reopened the world-class Boracay Island, initially to visitors within Aklan province, and eventually to other regions provided the traveler has been tested negative for Covid-19.
By the latter part of the year, several domestic destinations followed suit and started accepting visitors but with strict health and border control protocols, some with a test-before-travel requirement. Among these are Bohol, Batangas, Ilocos Region, Baguio, Siargao, and Palawan.
Last October, Bohol also hosted the hybrid Philippine Travel Exchange 2020, the first physical MICE event since the pandemic started. MICE stands for meetings, incentives, conferences, and exhibitions, an emerging niche market in the tourism industry before the health crisis.
Joel Pascual, president of the Philippine Association of Conventions, Exhibition Organizers & Suppliers Inc. (PACEOS), said 2020 was a "really terrible year" for all MICE stakeholders as all its planned events had to be postponed or canceled.
For most of the year, PACEOS lobbied for MICE to be separated from "mass gatherings" as the industry works in a controlled environment where there is clear accountability and where safety protocols are more effectively implemented.
"Towards the end of the year, some events have been approved on a national level but are still subject to the approval of the LGUs but there are still some confusions on implementation of such guidelines," he said.
Pascual said no events equates to zero revenue, which meant that MICE companies were merely trying to survive, trying to keep staff employed through the pandemic.
As the new year nears, Pascual hopes for more consultation between the government and the private sector while the pandemic is still a pervading issue.
"Our biggest hope is that we can build the confidence of government that the professional MICE sector is more than capable of adhering to safety protocols," he said.
'Chinese retirees'
Aside from the pandemic, the DOT this year also focused on introducing reforms at the Philippine Retirement Authority (PRA) following a public backlash on its current policy that allows foreigners as young as 35 years old to retire in the Philippines.
Senators questioned if the PRA, an attached agency of the DOT, can ensure that young Chinese retirees are not working nor engaged in the operations of Philippine Offshore Gaming Operators (POGO).
Based on PRA data, some 26,969 Chinese nationals have been allowed to retire in the Philippines, topping the list as of December 2019, followed by 13,912 Koreans; 5,951 Indians; 4,801 Taiwanese; and 3,950 Japanese.
There are a total of 14,987 active retirees or those who continue to keep the retirement visa as their status of stay in the Philippines with ages ranging from 34 to 49 years old. Of this number, more than 50 percent, or 8,130 of whom are Chinese nationals from mainland China, followed by the Koreans at 2,257 and Indians at 1,891.
Despite this calamitous year for the tourism industry, the Philippines carried on and has even bagged accolades that recognized the timeless beauty of its destinations.
The Philippines' dive spots and the old walled city of Intramuros were hailed as this year's World's Leading Dive Destination and World's Leading Tourist Attraction, respectively, by the 2020 World Travel Awards (WTA).
This is the Philippines' second time to win the world title for dive, besting eight different popular dive hubs, such as the Azores Islands, Bora Bora, French Polynesia, Cayman Islands, Fiji, Galapagos Islands, Great Barrier Reef in Australia, Maldives, and Mexico.
Meanwhile, it was Intramuros's first time to win the World's Leading Tourist Attraction, beating 15 different attractions, such as the Acropolis of Greece, Burj Khalifa of Dubai, the Grand Canyon National Park of the US, Mount Kilimanjaro of Tanzania, and Taj Mahal of India. Albeit virtually, the Philippines remained on the world's radar.
'Recovery'
Earlier, Tourism Secretary Bernadette Romulo-Puyat said international travel might not happen soon amid the existing travel restrictions of other countries, especially now that a new strain of SARS-CoV-2 is spreading fast in the United Kingdom.
"Our (focus) is still domestic tourism. Domestic tourism is 10.8 percent in the 12.7 percent contribution of the tourism industry to the country's GDP that's why we will strengthen this," she told reporters on Dec. 28.
Physical distancing and health protocols had been the most associated words to the "new normal". And in the years beyond, this is likely to stay as safety becomes the traveler's paramount concern.
Puyat is optimistic that DOT's partnerships with public hospitals, such as the Philippine General Hospital and the Philippine Children's Medical Center, would help transcend the prohibitive barrier of testing requirements for travelers.
"Working hand in hand not only with our tourism stakeholders and LGU, but also with government health facilities ensures that success of safety protocols will strengthen our collective efforts to gradually and safely reopen domestic tourism," she said.
Basing on previous major viral epidemics, experts earlier said the average recovery time for visitor numbers to a destination was 19 months.
The worldwide economic impact of H1N1 was estimated at up to USD55 billion, according to the World Travel & Tourism Council (WTTC).
A similar economic crisis affected China, Hong Kong, Singapore, and Canada after the 2003 SARS outbreak impacted the global travel and tourism sector by around USD30 billion and USD50 billion.
But for a global health crisis that has lasted for almost a year now, how can the industry today regain its momentum and recover?
For the WTTC, governments must coordinate to provide certainty for travelers with regards to travel restrictions and policies.
In a December 21 statement, Gloria Guevara, WTTC President, and CEO, said: "If a comprehensive and quick turnaround testing regime were in place at airports across the country to test all travelers before they depart, it would ensure only those infected with Covid-19 are isolated and are prevented from traveling. There would be no need for countries to introduce damaging and counterproductive wholesale bans on UK travelers." (PNA)