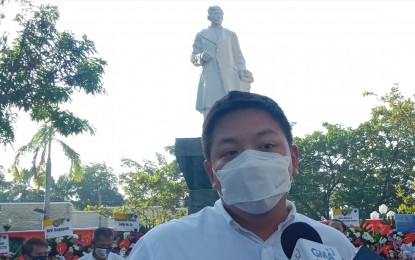 DAGUPAN CITY – The city government is ready to purchase vaccines against coronavirus disease 2019 (Covid-19) with a budget of PHP10 million as initial funding.
In an interview on Wednesday, Mayor Marc Brian Lim said he has sent a letter to the Inter-Agency Task Force (IATF) signifying the city's intention to buy vaccines the moment a Food and Drug Administration-approved vaccine becomes available in the country.
"Yesterday, we already submitted a letter to the IATF stating that Dagupan is ready to buy vaccines worth PHP10 million, initially. We have a spare fund if we will need more. We also stated that, specifically, we wanted to acquire AstraZeneca, Pfizer, or Moderna because of its high efficacy and the price is lower," he said.
Lim, however, clarified that the city government will purchase whatever is the approved drug.
"Given the mechanism in place, that is why we wrote IATF that we are ready to buy. For as long as they would announce the availability of an approved vaccine, we are ready to buy," he added.
Lim said the city government wants to be among the first cities in the country to obtain the vaccine since Dagupan is a special case.
"Most hospitals in the province are here like the Region 1 Medical Center. We want our front-liners to be injected as soon as possible, that is what we asked from Senator Bong Go, and it is also the content of our letter to IATF," he said.
The city's next priority after the front-liners are the senior citizens.
"If you look at the city's morbidity, most of those fatalities were 59 years old and above. We have to look at the senior citizens. The protocols for the vaccination is pretty straight forward. If we will look at what they are doing in the United States and the United Kingdom, front-liners and senior citizens or elderly, especially those who are at the home of the aged, are being prioritized," he said.
Meanwhile, the mayor said the city government is looking into the possibility of coming out with a Vaccination Digital Passport.
"It is important to consider, how one proves that he or she has been injected. This is very important because later on, they will look for proof whether in transportation like when you board an airplane, at least you will have proof that you have been vaccinated," he said. (PNA)