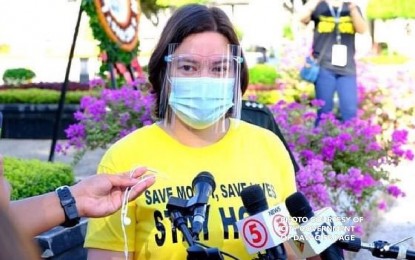 DAVAO CITY – Despite topping the recent Pulse Asia yearend survey results on possible Presidential 2022 candidates, City Mayor Inday Sara Duterte remained impassive.
"The Presidential Elections of 2022 is farthest from the minds of many Filipinos as we focus firmly on how to survive the economic and humanitarian crisis still in front of us as we continue to battle the effects of Covid-19 on our people and our country. Nevertheless, I respectfully suggest to survey organizations to remove my name from the choices," said Duterte on Friday when asked to comment on the results released shortly before New Year's eve.
The President's daughter, who bested 10 others on the list that includes named politicians, had been in the forefront of the campaign to bring down cases of Covid-19 infection and had ordered intensive monitoring migrants from the southern corridors following reports of new Covid-19 variant cases in Malaysia.
While Mayor Inday refused to be distracted from her present priorities, the political climate has started to simmer in the Davao region with some members of Hugpong ng Pagbabago are excited about the results.
Political pillar in Davao de Oro, former governor and now senior provincial Board Member Arturo "Chongkee" Uy, said, "No doubt she will be the next president-
considering she has not yet announced her candidacy and not going around yet, mataas masyado rating nya-kailangan yung vp nya -meron din hatak (Her rating is very high, all she needs now is for her vice president who can also muster support)."
Mindanao gave Mayor Inday a whopping 58 percent, followed by Visayas (29 percent), Metro Manila (16 percent), and the rest of Luzon (12 percent).
She also topped it in all sectors with class ABC at 27%, D with 26%, and E at 23%.
It may be recalled that months back, Mayor Inday told the media that she will think about her political options early in 2021, she had been mum about it because of the Covid-19 pandemic.
President Rodrigo Duterte discouraged her from running for President.
She said she hasn't talked to her father about the recent Pulse Asia survey result. (PNA)