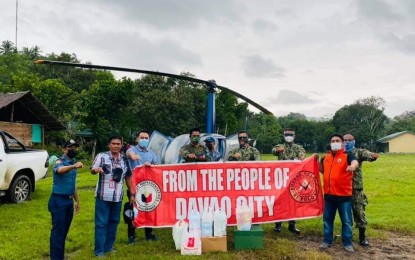 DAVAO CITY – An outpouring of help from various groups and organizations continues for Jose Abad Santos, Davao Occidental after a diarrhea outbreak hit Barangay Butuan on Sunday.
Mayor Jason John Joyce on Monday said a senior citizen died while 33 others were hospitalized due to the outbreak.
He thanked the people, groups, and organizations that extended help to the victims.
"Thank you for all who supported us. The challenges we faced became lighter with your help. You showed love to the Jasenyos," Joyce said in a Facebook post on Monday.
He also thanked Davao City 1st District Rep. Paolo "Pulong" Duterte and Senator Ronald "Bato" del Rosa for their assistance.
The Department of Health in Davao Region (DOH-11) on the other hand, provided essential commodities such as medicines and intravenous fluids for the use of Tomas Lachica District Hospital where the patients were admitted.
Jerry cans for water storage and chlorine granules were also given to the affected barangay.
On Sunday, DOH-11 Regional Epidemiology Surveillance Unit (RESU) head Dr. Cleo Fe Tabada coordinated with the Municipal Health Officer, Dr. Amparo Lachica, for the initial investigation and rapid assessment of the area, health status of the families affected, needs of the health facilities and the entire community hit by the outbreak.
Of the 33 patients, 25 are being closely monitored, a statement from DOH-11 said.
Citing the Municipal Health Office's findings, the infectious diarrheal disease was due to contaminated water from a deep well, the main source of water in the said barangay.
A team from the RESU is set to visit the affected barangay to collect appropriate specimens and continue the investigation together with the Provincial Health Office and town health officials.
DOH-11 reminded the public of the importance of safe drinking water, the use of improved sanitation, and handwashing with soap to reduce the risk of diarrhea.
"If anyone is experiencing three or more loose or liquid stools per day, this must be reported immediately to the nearest facility for immediate health interventions," the health agency added. (PNA)