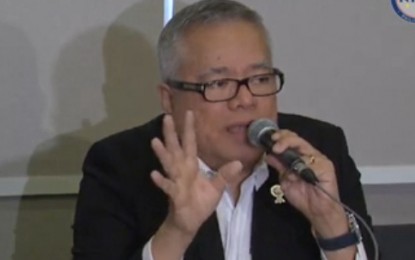 MANILA – The Department of Trade and Industry (DTI) will impose provisional safeguard duties on imported passenger cars and light commercial vehicles after its preliminary determination found that there was an influx of importation of automotive vehicles that caused serious injury to the domestic market.
In a statement Monday, DTI Secretary Ramon Lopez announced the safeguard duties will amount to PHP70,000 per unit for imported passenger cars and PHP110,000 per unit for outsourced light commercial vehicles.
The imposition of the safeguard measures will be in the form of cash bond, DTI added, and will take effect for 200 days from the issuance of an order by the Customs Commissioner and while the case is under the formal investigation of the Tariff Commission.
The safeguard measure will start 15 days after publication Tuesday.
"The provisional safeguard measures will provide a breathing space to the domestic industry which has been facing a surge in importation of competing brands. To clarify, importation is not being banned, and consumers will still have the options to choose, but imported vehicle models covered by the rule shall have safeguard import duties," Lopez said.
The Philippine Metalworkers Alliance filed a petition for safeguard measures on imported passenger cars and light commercial vehicles, which made the DTI to launch an investigation.
"DTI's findings show that imports of passenger cars have increased by an average of 35 percent during the period of investigation (POI) from 2014 to 2018 while the share of imports relative to production showed that imports exceeded domestic production from 295 percent in 2014 to 349 percent in 2018," the DTI said.
Imports of light commercial vehicles, which include pickup trucks, significantly increased during the POI from 17,273 units in 2014 to 51,969 units in 2018, it said.
Its share of imports relative to domestic production also significantly increased from 645 percent in 2015 to 1,364 percent in 2018, it added.
For passenger cars, the local manufacturers' share in the domestic market only ranges from 22 to 25 percent while imported ones capture more than 70 percent of the market.
For light commercial vehicles, local industry's share shrank from 18 percent in 2014 to 7 percent in 2018 while shares of imported light commercial vehicles in the Philippine market climbed from 82 percent in 2014 to 93 percent in 2018.
"Safeguards are imposed to protect local manufacturers and producers and to prevent other companies from leaving the country. If we recall, the discontinuation of the production of Isuzu D-Max in July 2019 and the assembly plant closure of Honda Motors Philippines in the first quarter of 2020 affected local jobs and the Philippine economy. It may also attract vehicle manufacturers to operate in the country and create more jobs," Lopez added.
Formal investigation by the Tariff Commission, which includes public hearings, will commence in the next several weeks. (PNA)