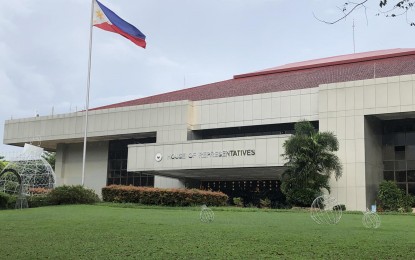 MANILA – Two members of the House of Representatives on Tuesday lauded President Rodrigo Duterte's signing of the Alternative Learning System (ALS) Act which would institutionalize the parallel learning system for non-formal sources of knowledge and skills.
House Majority Leader Martin Romualdez and Tingog party-list Rep. Yedda Marie Romualdez said the enactment of ALS Act is a win for millions of out-of-school children, youth, and adult learners, as well as indigenous peoples, learners with disabilities, and other marginalized sectors, as it improves the delivery of basic education to the underserved and disadvantaged.
"This law will strengthen the State support and mechanisms so our learners will be able to complete the appropriate and functional literacy, life skills and basic education they deserve," Yedda said. "The passage of this priority measure of Tingog party-list is a signal of hope for the future of our marginalized learners."
Romualdez said Duterte's approval of the measure is consistent with his commitment to improve the lives of the Filipino people, especially learners who wanted to pursue non-formal education.
"This is a step towards the fulfillment of our goal to provide education for all," Romualdez said. "Through this law, the government will not just support our 'out-of-school children in special cases' and adults, but also ALS teachers."
In the Senate, Senator Sherwin Gatchalian said the ALS institutionalization "is a timely and urgent measure considering the disruptions brought about by the Covid-19 pandemic in the education sector."
Before the pandemic, the World Bank reported that about 24 million Filipinos aged 15 and above have not completed basic education and around 2.4 million children aged 5 and 14 are not in school. When the pandemic struck, around 2.3 million learners in K to 12 were not able to enroll. For those participating under the existing ALS programs, around 45 percent of the previous year's participants did not enroll.
"By building an ALS Community Learning Center in every city and municipality, we can make this program more accessible to millions of out-of-school children in special cases----such as learners with disabilities, Indigenous Peoples, children in conflict with the law, and those from other marginalized sectors ----and adults," said Gatchalian, chairman of the Senate committee on basic education, arts and culture.
Senator Christopher "Bong" Go also lauded Duterte for signing the law institutionalizing the ALS program in the country.
"Education is a constitutionally enshrined right which the State must protect and promote. Thus, ensuring education for all should be a top priority. For this to be achieved, it is vital that opportunities to learn and receive quality education are accessible to all those who so desire," said Go, co-author of the new law.
Under the law, the Department of Education (DepEd), in consultation with the Department of Budget and Management and the Civil Service Commission (CSC), shall create teaching positions and allocate corresponding salary grades to help strengthen the ALS Teachers Program.
ALS teachers will also be entitled to promotion to the next higher levels based on the qualification standards of the CSC.
Based on the signed law, the ALS is more conducive to a non-traditional student's academic success as it takes into consideration their specific needs and concerns.
It provides them with specialized programs and alternative education approaches and strategies which they otherwise would not be able to receive within the formal learning system.
Specifically, students can develop knowledge, skills and selected competencies through a combination of learning modalities, including face-to-face learning sessions, modular instruction, digital instruction and workshops, among others.
Out-of-school children in special cases are children of official school age who are not enrolled in elementary or secondary schools due to economic, geographic, political, and cultural factors, and even social barriers.
They can also include learners with disabilities or conditions, indigenous peoples, children in conflict with the law, and other marginalized sectors. (PNA)