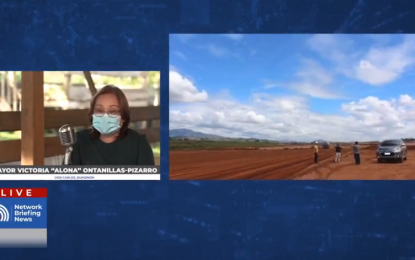 CAGAYAN DE ORO CITY – The "Phase One" development of the planned airport terminal in Bukidnon province has reached a 98 percent completion rate, according to the local chief executive of Don Carlos town on Thursday.
Mayor Victoria Ontanillas-Pizarro shared the engineering earthworks for the project are almost complete, while "Phases 2 and 3" are about to begin this year.
"For the Phase 4, the construction of the (airport) terminal building, we will fund it from the 2021 general (national appropriations allotment) budget," she said, during the Network Briefing News with Secretary Martin Andanar, chief of the Presidential Communications Operations Office (PCOO).
She said the land acquisition from private property owners is now at 85 percent, and the relocation of affected families is almost complete.
Ontanillas-Pizarro said they have plans to improve the infrastructure projects in their municipalities, including the funding of the construction of a commercial mall, six-lane municipal roads, and installation of street lights and traffic closed-circuit televisions (CCTVs) to complement the construction of the terminal.
The airport project is located in Barangay Maraymaray, about 7.3 kilometers away from the town's commercial center, with an area of 149 hectares.
Based on the recent report from the National Economic Development Authority in Region 10 (Neda-10), about PHP20 million was allocated for the initial site acquisition in 2015, which was undertaken by the municipal government.
In 2017, additional funding of PHP34 million was provided for the ongoing acquisition.
The Department of Transportation also forged a Memorandum of Agreement with the Civil Aviation Authority of the Philippines for the improvement of landside and airside facilities of the airport amounting to PHP630 million. (PNA)