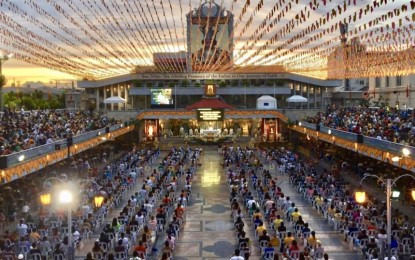 CEBU CITY – Augustinian friars on Friday morning enthroned the Holy Image and consecrated the Philippines to the Señor Sto. Niño before physically distanced devotees and clerics, praying for protection amid the pandemic.
Before the opening salvo Mass at the Basilica Minore del Sto. Niño's pilgrim center, Father Pacifico Nohara Jr., the prior of the Basilica, offered a consecration prayer before the miraculous image, invoking protection for the well-being of the Filipino society.
In his homily, Nohara said the coronavirus disease 2019 (Covid-19) could not stop the people's faith in the Sto. Niño and from converging at the church's pilgrim center and participating in the enthronement and opening salvo.
He consoled devotees who could not physically join the first novena Mass, especially the elderly and young people, saying their participation through social media live streaming at home is enough expression of their faith in the Holy Child Jesus.
"To the immigrants, OFWs (overseas Filipino workers) who are listening and have obtained plane tickets for (the) Sto. Niño fiesta but could not come home due to the pandemic, those who are suffering from illnesses, and those who have departed, Pit Senyor (plead to the Sto. Niño) to you all," Nohara said.
Despite the health crisis, the priest said 2021 "is (a) good year" for Filipino Roman Catholics around the world because the country celebrates the 500th year of Christianity.
"That alone makes 2021 a year to be joyful, a year to be grateful because we are blessed with the presence of the Father in our journey of faith to the image of (the) Sto. Niño," he added.
Various aerial and ground images released by Councilor Dave Tumulak showed devotees inside and outside the historical Basilica religiously complying with the minimum health protocols, such as physical distancing and wearing of face masks and shields.
Tumulak estimated 3,000 devotees gathered at the Basilica, which is a 50-percent drop from the average of 6,000 attendees in the past year's opening salvo.
He said half of the 3,000 individuals stayed inside the church while the rest stayed outside to attend Holy Mass. (PNA)