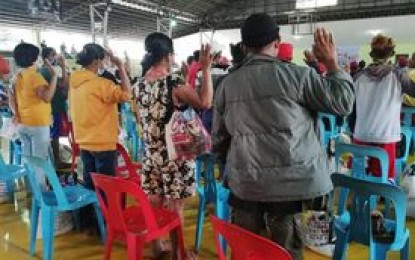 ILOILO CITY – At least 204 former rebels and supporters from Calinog, Iloilo and Tapaz, Capiz on Friday joined the "VOLTing in for Peace" to signify their official withdrawal of support to the Communist Party of the Philippines-New People's Army (CPP-NPA).
The Regional Task Force to End Local Communist Armed Conflict (RTF-ELCAC) facilitated the peace activity to cater to members or supporters of the communist terrorist group (CTG) who voluntarily surrendered to the government after the simultaneous serving of search warrants in those areas on Dec. 30, 2020.
"The activity earlier is the formalization of their withdrawal of support to the CPP-NPA and their show of support to the government," said Associate Provincial Prosecutor Flosemer Chris I. Gonzales, chair of the legal cooperation cluster of the RTF-ELCAC in an interview.
Some of them are NPA surrenderers while most are supporters, he added.
"We would like to put on record that these people were not forced to submit themselves to the Army. They voluntarily went to the 12th IB (Infantry Battalion) headquarters in Barangay Libut, Calinog," he said.
In their judicial affidavit, the surrenderers put in oath their statement, background, extent of support to the CTG, and the reason for their surrender, he said.
Apart from judicial affidavits, the participants also signed their oath of allegiance to the government.
Gonzales added that they hope to extract over 100 judicial affidavits on Friday as they have a sufficient number of police investigators.
Meantime, Police Regional Office 6 (PRO6) director B/Gen. Rolando F. Miranda said those who joined the activity for peace were just victims of the violence committed by the CPP-NPA as they were harassed and threatened.
With the formalization of their withdrawal of support, the government, particularly the Department of Social Welfare and Development and their respective local government units will come in for appropriate interventions.
Calinog Mayor Francisco Calvo said that the LGU will be providing livelihood support to his over 100 constituents who surrendered.
The Dec. 30 police operations arrested six members of the CTG in Barangays Masaroy and Garangan in Calinog.
The RTF-ELCAC provided them with relief assistance. (PNA)