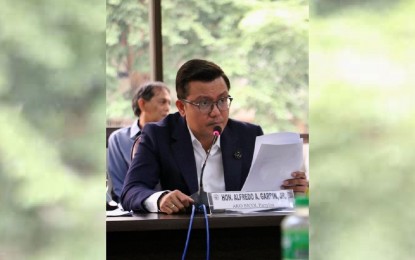 MANILA – The chair of the House Committee on Constitutional Amendments on Friday assured the public that its deliberations on the proposed constitutional amendments will be fair and transparent.
In a radio interview, Ako Bicol party-list Rep. Alfredo Garbin Jr., committee chair, said the constitutional amendments will focus only on the restrictive economic provisions of the 1987 Constitution, in line with the directive of Speaker Lord Allan Velasco.
"Klaro po ang direktiba ng ating Speaker (The Speaker's directive is clear) that we need to confine our discussion doon sa (on the) economic provisions. At the end of the day, ang taong bayan will have the power of ratification. They will be the one to ratify the amendments in a plebiscite," Garbin said.
Under Resolution of Both Houses (RBH) 2 authored by Velasco, the phrase "unless otherwise provided by law" will be added to the restrictions set by the Constitution on ownership of franchises and public utilities.
"By inserting the phrase 'unless otherwise provided by law', mabibigyan ang Kongreso ng (Congress would be given a) leeway so that we can enact a responsive legislation in order to meet the economic conditions of the time," Garbin said.
Garbin emphasized that the pandemic has made the matter of amending the restrictive economic provisions in the Constitution urgent, as domestic markets struggled to boost the economy during the lockdown period in 2020.
"The amendments on the economic provisions are long overdue. Since the 13th Congress, nandiyan na ho yung panukala na buksan at ma-relax ito (the proposal to relax these [provisions] were already there)," Garbin said.
Garbin said he expects the panel to complete its deliberations before Christmas of 2021, and to schedule the plebiscite in time for the 2022 National Elections.
Garbin also allayed fears that Congress will touch on the political provisions in the Constitution, particularly term limits or term extension.
"In the process, we need to develop public trust and confidence. Ultimately, anuman ang aprubahan namin, ipapasa namin sa taumbayan para sila ang mag-desisyon (whatever we approve here would be passed on to the public so that they could make the decision)," he said.
On Thursday, Malacañang said the House of Representatives does not need the blessing of President Rodrigo Duterte to resume discussions on Charter change (Cha-cha).
Presidential Spokesperson Harry Roque said the Palace respects the decision of the lower chamber to restart public hearings on Cha-cha.
Roque also dismissed anew rumors that the House's cha-cha is a move to extend the terms of officials including that of Duterte.
Resumption of Cha-cha talks developed after Velasco met with House leaders who previously chaired the constitutional amendments panel. (PNA)