MANILA – It's no secret that most plans have been canceled or put on hold as a result of the pandemic. Being stuck indoors for the most part, the days felt pretty much the same. Months of living under uncertain times is taking a toll on people's mental health. Apart from talking to a friend or an expert, more Filipinos are turning to bullet journaling to make life more productive and meaningful.
Bullet journaling, created by American digital product designer and author Ryder Carroll, is meant to help people manage their lives as well as document their thoughts. It's designed to fulfill small, actionable tasks like making to-do lists while at the same time decluttering your mind by listing down personal notes.
In social media, the hashtag #bulletjournal or #bujo would show photos of journal spreads that are either minimalist or artistic. Regardless of how your bullet journal looks, it's more important to make sure that it gives you a clear picture as to how you're investing time and energy.
Here's how some Filipinas utilized bullet journaling to get their life together:
Nizza Gueco, 33, a freelance writer and owner of online stationery shop "Pluzzle by Nizza", said bullet journaling has helped her stay focused at the tasks at hand to avoid feeling stressed out.
"It made me less workaholic and more focused on each task. Dati kasi basta may gagawin pa, gagawin ko dapat agad kaya na buburn-out (I used to be the type of person who would do tasks right away, that's why I get burned out). I'm the type of person na maraming gustong gawin (who has a lot of goals)," she told Philippine News Agency in an interview.
Although she had many things to get done, Nizza said she would end up not having accomplished anything because of getting distracted with other thoughts. Her bullet journal has helped her overcome this challenge.
"Bullet journaling helped me compartmentalize every aspect of my life kaya mas naha-handle ko daily schedule ko, (that's why I can handle my daily schedule better)," she added.
Nizza would describe her bullet journal design and theme as functional. She believes that one doesn't necessarily have to be artistic to start the practice.
"Bullet journaling is not about being artistic and having the prettiest spread. Your bullet journal is yours and is supposedly for your eyes only. So even if you are not as artistic as the artists you see on Pinterest and YouTube, if your bullet journal serves its purpose and helps you navigate through your life better, then that is what is important," she said.
This year, Nizza hopes her stationery shop would be able to reach more people so that she could share her love for art and crafts to like-minded individuals.
"This may sound plastic or cliche, but in all honesty, I love journaling so much and this is where I found my happiness. To do that though, I need to make it sustainable," she said.
Just like a friend
Mikaella Ericka Cea, 18, a second-year nursing student, is new to the #bujo trend. She said she started taking journaling more seriously at the start of the pandemic.
She said she doesn't allow herself to get intimidated or pressured by journal spreads with daily or weekly logs. For Mikaella, the bullet journal should be treated as a "friend" she enjoys spending time with.
"Bullet journaling is meant to be messy and not-so-organized after all. Apart from tracking your progress, to-dos, achievements, and other things that you want to pursue, it is meant to be a tool to know yourself better," she said.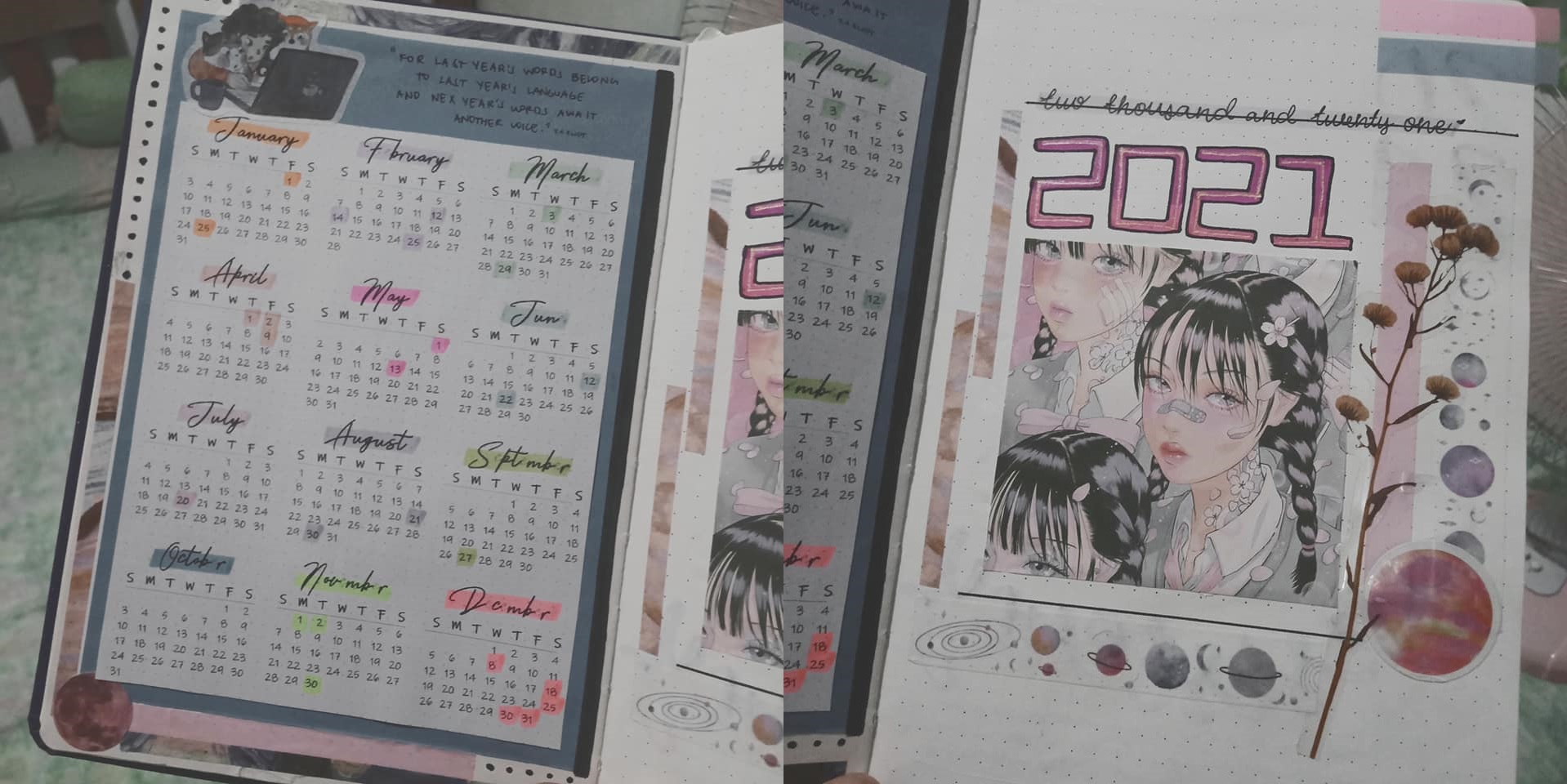 Mikaella also noted that it's enough to be able to see how she has improved through time and celebrate the little victories such as getting better grades.
"When I see that I'm making even a small progress every day, that alone makes me productive and motivated to continue doing what makes me happy. Bullet journaling has also become a stress reliever to me, so whenever I browse my past spreads, I just realize that there's so much more to do for myself to improve in different aspects, may it be in terms of art or academics," she said.
As a self-proclaimed noodles lover, Mikaella also included a page dedicated to the number of times she eats noodles in a year.
Mikaella is looking forward to being able to manage her time wisely so that she would have more time for her hobbies.
"I want to finish the semester with good grades, at the same time, I also want to have more time for art despite my busy schedule," she said.
Goal-oriented
Recognizing how she would sometimes feel "lost" amid life's uncertainties, Mara Villaflor, 27, an internal bank auditor, said her bullet journal serves as a reminder to work hard to achieve her short and long-term goals.
"I'm actually the type of person that feels lost when I can't see what I need to do for the day, week, or month so my bullet journal has helped me align my thoughts and keep me on track especially during my current work-from-home setup," she said.
Mara loves doodling, so her bullet journal has also helped her unleash her inner artist. Like most enthusiasts, she would also decorate her journal spreads using stickers and washi tape.
"Although I'm not very good at drawing, I like doodling on my journals. It makes it more personal and sometimes helps me express what I want to say," she said.
If you're interested in starting a bullet journal, Mara, said that consistency is key.
"Bullet journaling may take some of your time. With how busy life is, time may come that you forget to do your spreads of update your journals. Setting schedules on when you update and create spreads help a last," she said.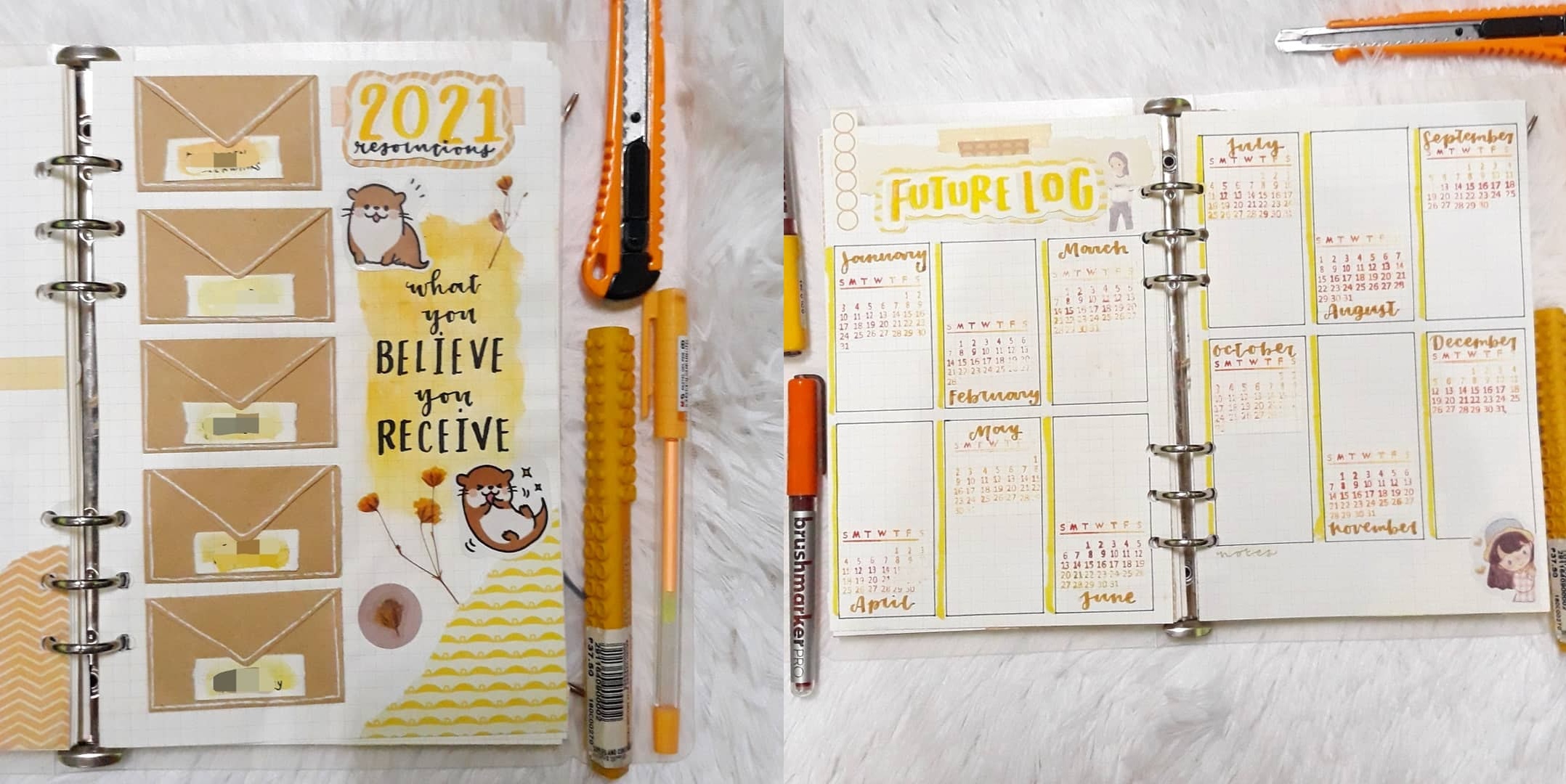 No matter how busy you are, she said taking five to 15 minutes a day to jot down on your bullet journal can do wonders.
"Bullet journals don't need to be perfect, so just do whatever you want with your spreads. You are allowed to make mistakes and correct them," she added, nothing she would give the same advice when it comes to life.
Personal satisfaction
Ruth Abinan, 30, a former hotel membership services officer, uses her bullet journal an outlet to clear up jumbled thoughts in her mind.
"When I was still working, I would seldom write on it because of my schedule. But since I'm currently between jobs, write on it every day to keep me sane during this pandemic," she said. '
She gets her inspiration from the art of influencer and calligraphy artist Abbey Sy and vlogger and content creator Kaila Ocampo also known as rainbowholic.
Aside from being a part to-do-list and diary, her bullet journal has also helped her keep track of her sleep schedule, menstrual cycle, and spending habits.
Sometimes, she also uses it to keep track of books she has read and wants to read as well as movies and series she has watched and wants to watch because it gives her personal satisfaction.
In the distant future, Ruth would want to be able to run her own business. For now, she'll work on saving up enough money.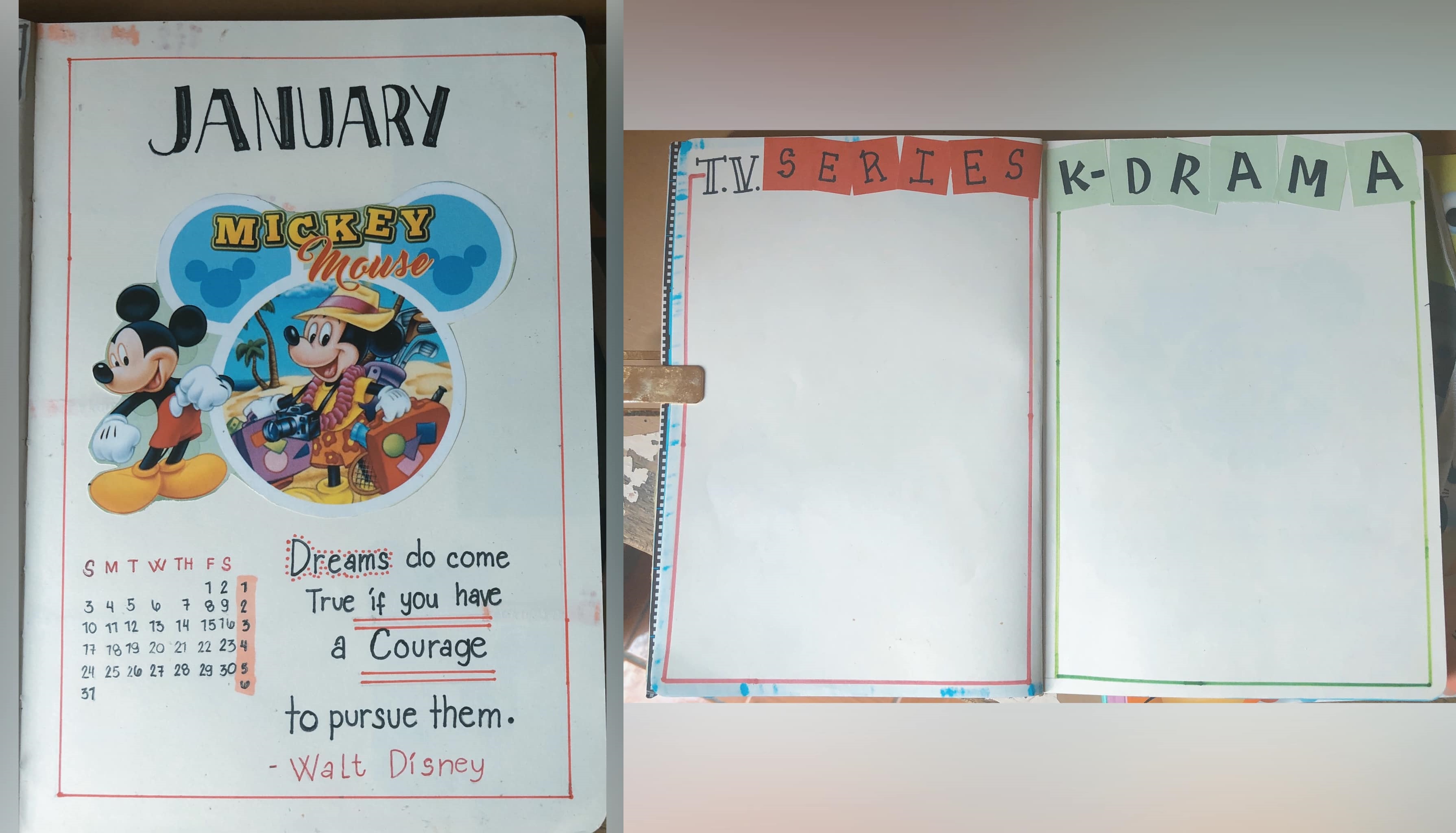 Bullet journaling could be a great addition to any self-care routine. All you need is a blank or dot grid journal and a no-bleed pen. You can also use watercolor, stickers, washi tape, or any other art materials available.
In the words of Lewis Caroll, what matters most is to "take the time to identify the things that interest us and think of ways to pursue them." (PNA)