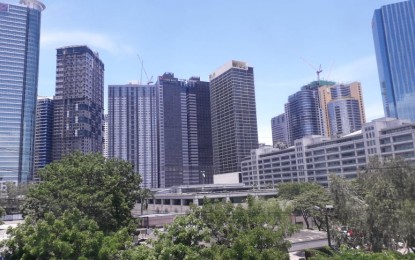 MANILA – First Metro Investment Corporation, the investment banking arm of the Metrobank Group, expects the Philippine economy to bounce back into positive territory to 5.5 to 6.5 percent this year, with sustained government spending and the rollout of coronavirus vaccines.
"The global recovery will return to strength by 2022 and the Philippine economy will start rebounding trying to reach the 2019 level," University of Asia and the Pacific (UA&P) economist Dr. Victor Abola said during the virtual FMIC economic and capital markets briefing Thursday.
The country's gross domestic product (GDP) surged by 5.9 percent in 2019 but contracted by 10 percent as of third quarter 2020 due to the impact of the coronavirus pandemic.
In 2021, Abola said the expected increase of overseas Filipino workers (OFWs) remittances; government spending geared towards Reset (health), Rebound (infrastructure), and Recover (skills upgrading) programs; and market reform initiatives can support economic growth.
Market reform initiatives designed to reinvigorate the economy include Bayanihan 2, the Government Financial Institutions Unified Initiatives to Distressed Enterprises for Economic Recovery (GUIDE), the Financial Institutions Strategic Transfer (FIST), and Corporate Recovery and Tax Incentives for Enterprises (CREATE) bills.
Abola added other factors boosting this year's growth are the mild inflation rate of 2.7 percent and the completion of big-ticket projects, including the Metro Manila subway, Northrail, South Luzon Expressway (SLEX) Extension, North Luzon Expressway (NLEX) East, and MRT-7 and Connector-2 easing traffic conditions in the National Capital Region.
The country's inflation rate averaged 2.6 percent in 2020 as the impact of typhoons on agriculture products partly pushed prices higher in the last quarter.
"Hopefully, (by the) second or third quarter of the year, you will have the vaccine and the restrictions will be more focused and more localized, (in) barangay level or even less," he said.
Abola said this year's economic growth will be driven by industry sector, construction and manufacturing, while the services sector will suffer amid the impact of the pandemic on travel, hotels, and restaurants. (PNA)