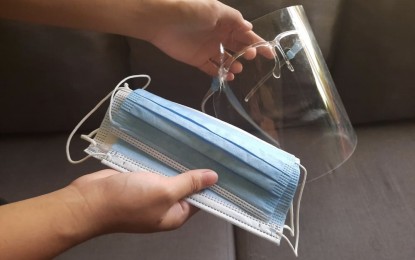 CEBU CITY – A friar at the Basilica Minore del Sto. Niño here on Friday said there must be a proactive action to address the emerging environmental effect of the coronavirus disease 2019 (Covid-19) pandemic on the lives of the Filipinos.
Fr. Aladdin Luzon, head of safety and security of the Basilica, said in his homily during the novena mass that proper disposal of used face masks and face shields must be observed.
"We hope that our government will formulate better ways to resolve the emerging problem on wastes under the new normal," Luzon said in mixed Cebuano and English.
Luzon, an environmentalist, said if the concern on Covid-19 wastes is "not properly taken into consideration, (it) may again form part in piling up" of the people's problem which may contribute to another factor of "social paralysis" apart from hunger and poverty brought by the pandemic.
He cited the recent news on calamities which can be attributed to the negative effect to sheer neglect in proper ways of disposing garbage.
The cleric said the Filipinos have endured the social impact of the pandemic on their lives as many went jobless when lockdowns were implemented to protect communities against the coronavirus.
"Our fellow Filipinos have been in social paralysis in socio-economic (aspect) and in terms of livelihood and jobs while many businesses shut down when Covid-19 hit the country," he noted.
In March last year, the friars at the Basilica allowed a Cebu-based water bottling firm to install six pet bottle bins that are now found in different corners of the historical church.
The move was to ensure proper disposal of plastic bottles brought in by pilgrims and tourists visiting Cebu's lone Roman Catholic basilica.
The friars said the project is among the ten-point agenda of the Committee of the Sto. Niño at 500, aimed to promote conservation in the church and its surrounding structures in time for the celebration of the 500th Year of Christianity. (PNA)