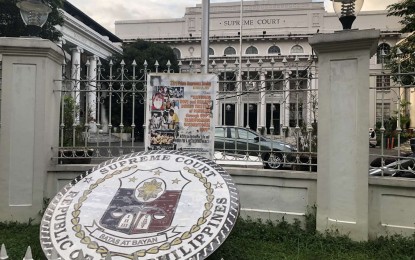 MANILA – Stakeholders have met to come up with an action plan to curb the spate of lawyers' killings, the Supreme Court (SC) said on Wednesday.
"We are now drafting our report to be submitted to CJ (Chief Justice Diosdado Peralta) who instructed us to meet with all stakeholders and find ways on how this can be addressed," Court Administrator Jose Midas Marquez told the media.
On Jan. 11, the SC officials met with the Department of Justice (DOJ), Prosecutors' League, National Bureau of Investigation (NBI), and the Public Attorney's Office (PAO) to address lawyers' killings.
Before the stakeholders meeting, the SC met with the Integrated Bar of the Philippines (IBP), Philippine Bar Association and the National Union of People's Lawyers along with representatives from the Department of Defense, Department of the Interior and Local Government, and the Commission on Human Rights.
Justice Secretary Menardo Guevarra, meanwhile, said the roundtable meeting provided a forum for the discussion of numerous issues pertaining to the killings of members of the legal community.
"In this regard, the DOJ will come up with an inventory of cases under investigation by the NBI, under preliminary investigation by the prosecution service, and undergoing trial in court, for the purpose of monitoring their progress very closely," Guevarra said.
Guevarra said other issues, such as providing greater protection to law practitioners, prosecutors, and judges, will be tackled in subsequent joint activities with the IBP. (PNA)