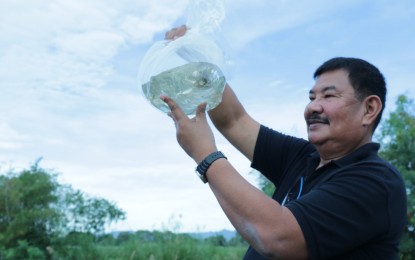 CITY OF SAN FERNANDO, Pampanga – The Bureau of Fisheries and Aquatic Resources (BFAR) regional office here has distributed some 19,000 bangus (milkfish) fry in Bataan to help ease the economic impact of the coronavirus disease (Covid-19) pandemic.
BFAR Regional Director Wilfredo Cruz said on Wednesday the move aims to provide immediate support to small-scale fishers and fish producers under their agency's "Ahon Lahat, Pagkaing Sapat Kontra sa Covid-19" (ALPAS) program.
"One of the main objectives of ALPAS is to help the fisherfolk recover the losses they incurred after being locked down for months due to Covid-19," he said in an official social media post.
Cruz personally led the distribution of bangus fry in Orani, Bataan on Tuesday, together with provincial fishery officer Romina Yutuc, to six identified recipients.
"This initiative of DA-BFAR, in support of the ALPAS program, aims to counter the significant losses in food fish production and help the small players in the industry to bounce back from the impact of the pandemic," he said.
In September last year, BFAR distributed some 8 million bangus fry in three towns of Bataan including Orani.
Cruz earlier said that Central Luzon will have more than 100 million bangus fry allocation to be distributed in some provinces in the region where the food fish production system proved to be the most vulnerable to the effects of the pandemic. (PNA)