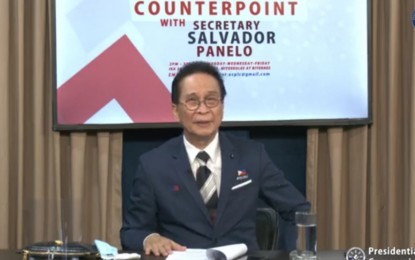 MANILA – President Rodrigo Roa Duterte will keep a "warm and friendly" relationship with the United States (US) under the presidency of Joe Biden, Chief Presidential Legal Counsel Salvador Panelo said on Wednesday.
In a press statement, Panelo was confident that Duterte would continue pursuing a "deep and genuine friendship" with the Biden administration.
"PRRD has been widely respected by state leaders, including President Donald Trump, as he manifests the same respect to -- and has gained deep and genuine friendship with -- them. We thus do not see any reason why we will not witness another friendly relationship materialize between PRRD and America's President-elect Biden when the latter becomes POTUS (President of the United States)," he said.
Panelo issued the statement, as he took note of several local commentaries about the possible impact of the Biden presidency on the Philippines' affairs and policies, including its crackdown on illegal drugs and its termination of the Visiting Forces Agreement (VFA) with the US.
Panelo said such commentaries based on "conjectures or surmises" should be ignored.
He stressed that Duterte's pivot to an independent foreign policy means maintaining a friendship with all nations, including the US.
"President Rodrigo Roa Duterte has chartered and transformed the policy on our country's foreign relations to one which fosters amity but, at the same time, promotes sovereign independence. We have, therefore, begun to enjoy the fruits of our head of state's thrust on diplomacy where our country is considered a friend to all and an enemy to none," Panelo said.
Panelo also expressed optimism that the US would continue to be the Philippines' "long-standing" ally.
"It is in this regard that we similarly foresee our country's relationship with the USA to remain warm, the latter being a long-standing ally in various aspects, such as in our fight against acts of terror that are being committed by evil forces," he said.
To recall, Duterte had strained relations with the US under the leadership of then-president Barack Obama who was critical of the Philippines' drug war.
However, the Philippines' ties with the US improved when outgoing US President Donald Trump gained an unexpected friendship with Duterte.
Panelo made it clear that the Philippines, while it sought an improved relationship with the US, would not allow any foreign country to interfere in its domestic affairs.
"One thing is, however, certain: the Philippines is no longer a vassal state to any foreign entity and as such, it will not allow any co-equal power to disrespect its independence," he said.
Panelo, nevertheless, wished Biden all the best as the incoming US President "is about to attempt in leading his nation amid this pandemic and beyond." (PNA)