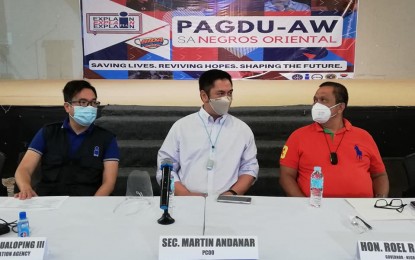 DUMAGUETE CITY – Negros Oriental Gov. Roel Degamo on Friday announced that the provincial government has reserved PHP40 million for the procurement of coronavirus disease 2019 (Covid-19) vaccines for his constituents.
Degamo made the announcement during the "Pagdu-aw sa Negros Oriental: Explain, Explain, Explain" activity of the Presidential Communications Operations Office (PCOO) headed by Secretary Martin Andanar, held at the provincial convention center in this capital.
The amount for the future roll-out of any available vaccine for Covid-19 is estimated to cover 55,000 individuals during the first year, he said.
"This is only an additional resource to what the national government may have to offer to all LGUs (local government units) across the country," he added.
The governor also updated the PCOO of the provincial government's programs and accomplishments in the fight against Covid-19.
He lauded the PCOO for embarking on the "Pagdu-aw" series as this will help the people understand the concerns and issues revolving around the Covid-19 vaccine.
"Our guests this morning will give us a holistic overview of the whole of government approach that our national leadership has adopted in the fight (against) Covid-19, especially in the rolling out of vaccines to the different LGUs," Degamo said.
The governor also said that the provincial government has extended food packs to more or less 200,000 families from the three congressional districts amid the pandemic, even as he lamented that "many quarters have maliciously ventilated their issues using social media platforms, and even reached the point of virtually attacking the personal lives of our front-liners".
Unfazed by the criticisms, he said the province will continue to move forward and find ways to ease the lives of the people amid the pandemic, stressing on unity among the LGUs and with the provincial government and other agencies and stakeholders.
Meanwhile, Andanar said during the dialogue with government officials and sectoral representatives, and later on during a press conference with the local media here, that the "Pagdu-aw" in Negros Oriental is the 3rd leg of the regional roadshow in Central Visayas.
The first was held in Cebu early this week and in Siquijor on Thursday.
This activity aims to inform the people of the national government's Covid-19 vaccine rollout, highlighting the role of media to disseminate correct information as "it is of top concern nga kinahanglan gyud nga masabtan sa atong kababayan, atong katawhan, nga dunay plano ang atong gobyerno (that the people will understand that the government has a plan)", Andanar said.
The plan includes the choice of vaccine; procurement of the vaccine; ensuring that the government can meet the logistical challenges; training of health workers on vaccine inoculation; and post-assessment of the vaccination, he added.
"It is very important to lay out the plans of the government because there are many humps ahead of us and we must learn from the mishaps of our friends from other countries," Andanar said. (PNA)