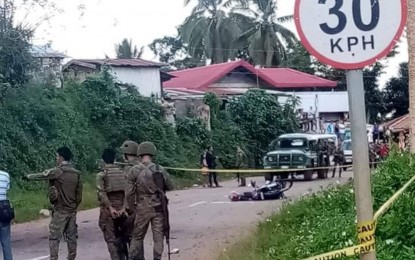 COTABATO CITY – A motorcycle rider was killed and another was hurt in a roadside bombing in Maguindanao's upland town of South Upi on Tuesday morning.
Mayor Reynalbert Insular said the explosion, triggered by an improvised explosive device (IED), occurred at 5:45 a.m. along the highway in Barangay Poblacion Romongaob.
Insular, quoting a police report, said the victim was riding on a motorbike with a back-rider heading toward Cotabato City when the explosion occurred.
Police identified the victim as Alberto Delos Santos of Lebak, Sultan Kudarat province.
"I urge my town mates to refrain from going out unless necessary as authorities have set up strict checkpoints around town," Insular said.
No one has claimed responsibility for the bombing and police and Army bomb experts are still determining the IED composition.
Recently, more soldiers have been deployed in the town after a series of violence and harassment, including an ambush against Insular and a town councilor. (PNA)