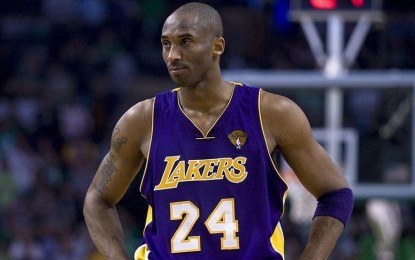 ANKARA – One year on, fans remembered basketball legend Kobe Bryant who died in a tragic helicopter crash.
The sports community commemorated the former USA and Los Angeles Lakers superstar on social media.
World basketball's governing body FIBA posted a video on Twitter to show Bryant's dedication to the game.
"You asked for my hustle, I gave you my heart. #MambaForever," FIBA said with a video showing Bryant's tough defense and tenacity to steal the ball from his opponent in a 2007 FIBA Americas Championship group game between the USA and Brazil.
It also shared Bryant's moments with Team USA in some FIBA tournaments.
Turkish Basketball Federation President Hidayet Turkoglu, who was also a former NBA player, paid tribute to Bryant on his death anniversary.
"Legends never die. Rest in peace Mamba. #KobeBryant #MambaForever," ex-Orlando Magic small forward Turkoglu tweeted.
"You will be remembered with good memories... R.I.P. Kobe! #KobeBryant #MambaForever," Turkish football powerhouse Galatasaray said.
Bryant visited Galatasaray senior team's training in Istanbul's Turk Telekom Stadium in 2011 and met Turkish manager Fatih Terim and the players.
Turkey's basketball giants Fenerbahce Beko paid tribute to him too.
"Icon. Legend. Forever. RIP #KobeBryant," Fenerbahce Beko said.
"Kobe Bryant... A year without you. Your memories help fill the void in our hearts," world famous Italian football club AC Milan said on Twitter.
"LEGENDS ARE FOREVER," Italian basketball club Olimpia Milano tweeted to commemorate the ex-Lakers guard.
Bryant was born in Philadelphia, Pennsylvania on Aug. 23, 1978, but partly raised in Italy.
Considered one of the top shooting guards in NBA history, Kobe, who gave himself the nickname Black Mamba, won the Most Valuable Player (MVP) award in 2008 along with two Finals MVP awards in 2009 and 2010.
The 18-time NBA All-Star led the Lakers to win five NBA titles: 2000, 2001, 2002, 2009, and 2010.
He averaged 25 points, 5.2 rebounds, and 4.7 assists in 1,346 regular-season games during his 20-year career.
Bryant was loyal to the Lakers as he spent his entire career in a single team.
Separately, Bryant helped US national team win two Olympic gold medals in Beijing 2008 and London 2012.
The NBA previously honored him as the NBA All-Star game MVP (Most Valuable Player) award has been permanently named for Kobe Bryant in February 2020.
The trophy is referred to as "The Kia NBA All-Star Game Kobe Bryant MVP Award".
Bryant was on his way to a youth basketball game with his 13-year-old daughter Gianna Bryant, when the helicopter crashed in California. Nine people died in the crash on Jan. 26, 2020. (Anadolu)