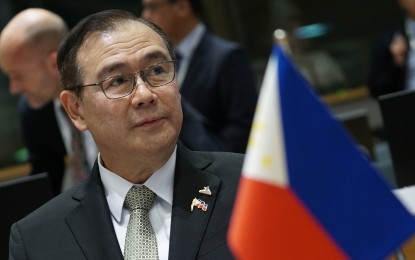 MANILA – The Department of Foreign Affairs (DFA) has issued a diplomatic protest over a new Chinese law that allows the China Coast Guard (CCG) to fire on a foreign vessel.
In a tweet on Wednesday, Foreign Affairs Secretary Teodoro Locsin Jr. said the specific law can be likened to a "verbal threat of war" to any state who would defy it.
"After reflection I fired a diplomatic protest. While enacting law is a sovereign prerogative, this one—given the area involved or for that matter the open South China Sea—is a verbal threat of war to any country that defies the law; which, if unchallenged, is submission to it," he said.
The said Chinese legislation, adopted on Jan. 23, empowers the CCG to "take all necessary measures, including the use of weapons" when a foreign vessel or individuals infringed upon its sovereignty, risking an escalation of tension in the contested South China Sea where Manila, Beijing and several Southeast Asian states are locked in a territorial dispute.
Despite a 2016 Arbitral Ruling disregarding China's nine-dash line over the South China Sea, the Asian superpower continues to claim almost 80 percent of the waters, including the Spratly Islands as its "inherent territory".
Asked for comment, security expert and president of the Philippine Association for Chinese Studies (PACS) Rommel Banlaoi said: "China is posturing".
Earlier, he said Manila should increase its presence in the contested waters and develop its capability to patrol the area.
If China fires from a disputed area, he said: "We can always challenge China legally when that situation occurs. But we need to develop deterrent capability to prevent China from doing so." (PNA)