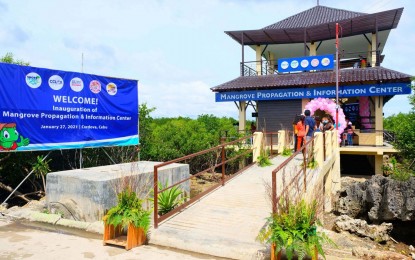 CORDOVA, Cebu – The Metro Pacific group and the local government of Cordova have inaugurated the Mangrove Propagation and Information Center in Barangay Day-as of this coastal town.
This is the first mangrove center of its kind in the Visayas region and the third in the whole country, which is seen to help further boost the town's booming ecotourism flourish.
Cordova is a third-class municipality that borders Lapu-Lapu City in the south of Mactan Island.
Metro Pacific Investments Foundation (MPIF), the corporate social responsibility arm of Metro Pacific Investments Corp. (MPIC), the Cebu-Cordova Link Expressway Corp. (CCLEC) and the local government here led the opening of the facility on Wednesday.
The two-story facility will serve as the center for the protection and propagation of mangrove trees in the coastal areas, including the rehabilitation of degraded mangroves in the whole town of Cordova.
It will also provide locals and visitors with information and let them appreciate the importance and benefits of mangroves in the ecosystem. The second floor serves as a viewing deck for bird-watching activities.
"The Mangrove Propagation and Information Center is a legacy project of MPIF and CCLEC for the people of Cordova," MPIF president Melody Del Rosario said. "Similar to our existing centers in Alaminos, Pangasinan and Del Carmen, Siargao, it will create employment opportunities that positively impact the economic condition of their municipality."
"The completion of this mangrove center is a testament to the intent of CCLEC, MPIF, and the local government of Cordova to prioritize the environmental sustainability of our surrounding projects," CCLEC president and general manager Allan Alfon said.
CCLEC, subsidiary of Metro Pacific Tollways Corp., is the builder of the 8.5-kilometer Cebu-Cordova Link Expressway or CCLEX, a toll bridge that will link Cordova in Mactan Island to mainland Cebu through the South Road Properties in Cebu City. CCLEC will maintain and operate the PHP30-billion facility under a joint venture agreement with the local government units of Cordova and Cebu City.
The mangrove center supports calls to conserve and protect the country's coastal and marine biodiversity through the protection and propagation of the mangrove ecology. (PNA)