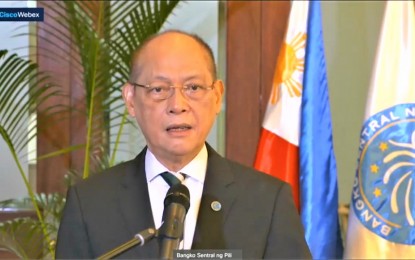 MANILA – Fraudulent financial transactions, including those involving credit card usage, increased in 2020 during the pandemic, Bangko Sentral ng Pilipinas (BSP) Governor Benjamin Diokno said.
In a virtual briefing Thursday, Diokno said other most common crimes involve unauthorized or disputed transactions due to disclosure of personal information and phishing e-mails based on personal account information and the use of one-time password (OTP).
Diokno said the most common credit card complaint in 2019 was about disputed transactions while it was about credit card fees and charges in 2020.
He said payment networks follow a stringent protocol on the investigation on these frauds.
"In most cases, the charges of fraudulent transactions are normally reversed through a charge-back or liability shared mechanism," he added.
As the BSP pushes for greater use of safe digital payments options, Diokno further said they have also increased their programs to educate the public "to address risks related to the increased accessibility of innovative digital financial products and services."
He, however, clarified this bid is a shared responsibility of the banking public, the BSP, and the BSP-supervised financial institutions (BSFIs).
Diokno said "BSP secures our digital financial system through a comprehensive set of regulations that addresses the increasing propensity and sophistication of cyber-attacks."
"Collective vigilance is seen to foster greater confidence in the financial system under the new economy," he added. (PNA)