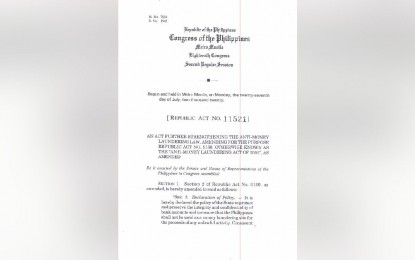 MANILA – President Rodrigo Duterte has signed a law that intends to strengthen the country's anti-money laundering act (AMLA).
Republic Act (RA) 11521, inked by Duterte on January 20, introduces amendments to RA 9160 or the Anti-Money Laundering Act of 2001 in a bid to prevent the country from being included on the "gray list" or countries with weak policies against dirty money.
The newly signed law, a copy of which was released on Friday night, expands the scope of predicate offenses by including the commission of tax crimes and violations of the Trade Management Act on the financing of the proliferation of weapons of mass destruction.
RA 11521 includes on the list of covered persons real estate developers and brokers who engage in the buying and selling of real estate properties, along with Philippine offshore gaming operators and their service providers.
The law also strengthens the functions of the Anti-Money Laundering Council (AMLC) by giving it the authority to require, receive, and analyze covered or suspicious transaction reports from covered persons.
The AMLC, under the law, is also allowed to investigate, issue a subpoena, and conduct search and seizure.
RA 11521 also authorizes the council to implement targeted financial sanctions in relation to the proliferation of weapons of mass destruction and their financing.
The Philippines only had until February to implement changes to the AMLA.
In 2000, the Philippines was gray-listed by the Paris-based watchdog Financial Action Task Force (FATF) - International Cooperation Review Group due to its failure to address dirty money issues.
Its previous inclusion in the gray list paved the way for the enactment of RA 9160 in 2001.
In February 2005, the Philippines was removed from the FATF gray list.
Inclusion in the FATF's gray list will result in additional layers of scrutiny from regulators and financial institutions, delayed processing of transactions, and clocking the country's road to an "A" credit rating. (PNA)