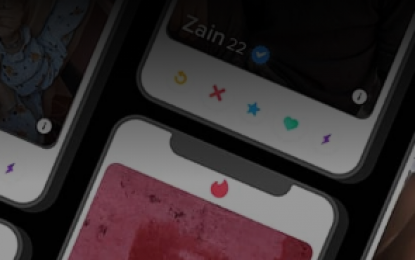 MANILA – While the coronavirus disease 2019 (Covid-19) pandemic restricts people's movement, some still find a way to look for their potential partners through dating apps.
Online dating makes it easy for singles to connect with people who share same interests as theirs, George Admirable told the Philippine News Agency (PNA).
Admirable, 22, never thought he would be able to have deeper and more meaningful connections with his matches on the online application he is currently using.
"Ang kinaibahan nito sa traditional dating is 'yung pagkakaroon niyo ng enough time to have a deep conversation or heart-to-heart talk (It's difference from traditional dating is you can find more time to have a deep conversation or heart-to-heart talk)," Admirable said.
While he is having a hard time finding a long-time partner, Admirable said there is plenty of life lessons he has learned from people he met on online dating app.
"Possible din palang mag-grow ako ng dahil sa experiences ng mga nakilala ko from online dating (I did not expect that it is also possible to grow as a person because I am learning from the people I have interacted with through online dating)," he said.
'Very convenient'
Just like Admirable, Vei Madlangsakay believed it is "very convenient" to use dating apps to find a partner.
"Online dating is very convenient for me," said Madlangsakay, a public school teacher. "It is also good for me since I prefer meeting strangers instead of friend referrals."
Madlangsakay is in a relationship for nearly six years now with AJ, the person she met on online dating app Tinder.
Virtual dates helped her form a deep bond with her current partner, she said.
"Online dating doesn't require such meet ups. You can adjust your dates either by video calls or just video calls," Madlangsakay said.
Online dating was already popular before the Covid-19 pandemic.
Covid-19 gave virtual dates more prominence for people who seek serious relationships.
Due to the pandemic, the government imposed in March last year the most stringent health and quarantine measures, forcing majority of the Filipinos to stay home.
The government, however, eventually eased the quarantine rules and now allowing people aged 15 to 65 to go out.
Virtual dates for safety purposes
While there is an apparent spike in users of dating apps, Admirable and Madlangsakay said traditional dating is better for someone who wants to enter into a deeper relationship.
But since there is still a pandemic, it is safe for couples to continue resorting to virtual dates, Madlangsakay said.
"Since we are in a pandemic, we still do online dates for everyone's safety," she said.
Madlangsakay said couples can still feel the presence of their partners through video chats or phone calls.
"We do online dates if there are unfortunate circumstances such as him being assigned to a remote area because of work. Online dating helps a lot for us to catch up. Simple sharing of experiences for the day is our routine as well as checking out what we will be eating in our respective houses," Madlangsakay said. (PNA)