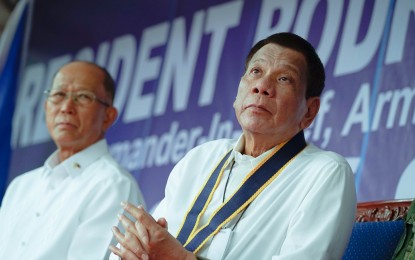 MANILA – A coup or a military takeover, similar to neighboring Myanmar's case, is unlikely to happen in the Philippines, as President Rodrigo Duterte has the security sector behind him, Defense Secretary Delfin Lorenzana said.
"(That) will never happen," Lorenzana said on Monday. "The military and police are happy with PRRD. He has our full support."
Lorenzana also cited Duterte's consistently high approval ratings as shown in surveys.
"PRRD enjoys (a) very high approval rating (91 percent last quarter 2020)," Lorenzana said.
Early on the morning of Feb. 1, Myanmar's army toppled the Southeast Asian country's elected government and arrested its de facto leader, Aung San Suu Kyi.
Myanmar's military declared a one-year state of emergency, transferring power to military leader Min Aung Hlaing and new acting president Myint Swe, a former general, and vice president.
This, after Suu Kyi and other top politicians were detained by the military after allegations of irregularities and fraud in Myanmar's multiparty general elections in November 2020. (PNA)