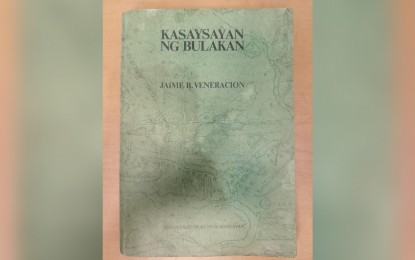 MANILA – Did you know that during the 1800s and early part of the 1900s, a part of an isolated route considered by both the Spanish and American colonizers of the Philippines as "daang tulisan" or bandits' path existed in the northeastern and mountainous towns of the then neighboring provinces of Manila and Bulakan?
Yes, such an unsavory name was given to that route as it was used by Filipino resistance forces whenever they attacked soldiers of the succeeding two colonizing countries. They used the route in fleeing toward the mountainous towns of Norzagaray, San Jose del Monte, Montalban and San Mateo after staging an attack, whether successful or not, against the invading soldiers.

This and other relevant information were narrated in a book titled "Kasaysayan ng Bulakan" (History of Bulakan), written by University of the Philippines History Prof. Jaime B. Veneracion and published in 1986 jointly with historians Dr. Zeus A. Salazar and Agnes R. Mendoza-Urban and the UP Bahay-Saliksikan ng Kasaysayan (BAKAS).

Veneracion, a native of Bulakan, earned his A.B., M.A. and Ph.D. in Philippine History from the UP. He was among the founders of Ibon Foundation, a non-profit research, education, and information development institution, as well as the state university's BAKAS.

He was honored by the UP Students Council for his Nationalistic Policy Advocacy in 1971. He was also a recipient of an award in 1983 from the Civil Service Commission for his book about the Philippine Civil Service history.

The Veneracion book dealt extensively with the local history of Bulakan as a province, as well as the creation of its various towns, particularly from the formerly large municipality of Meycauayan. It said that as an old settlement, the province would already be known as Bulakan as early as the mid-17th century.

According to the book, the territory of the province used to be so large that there was a time when it extended up to San Mateo, Marikina, Antipolo, Taytay, Morong and Taguig, now one of the 16 bustling cities of the National Capital Region (NCR) along with Manila, Caloocan, Quezon City, Pasay, Makati, Marikina, Pasig, San Juan, Mandaluyong, Parañaque, Las Piñas, Muntinlupa, Valenzuela, Malabon and Navotas.
In the period between 1830 and 1855, the creation of new frontier towns in Bulakan like Norzagaray, San Jose del Monte, Marilao, Polo, and Novaliches, among others, necessitated the opening of a road along the foothills of the Sierra Madre Mountains to connect the Bulakan towns to the province of Manila. At that time, there was only a trail in the area, accommodating just hikers and those riding on horses and carabaos. The trail was commonly called also as "daang tulisan."
The Spanish and American forces used to call as bandits, instead of patriots, the Filipinos fighting for their freedom from Spain and the United States of America during those years.

Of course, nobody could say with certainty that those who used that trail at that time were fighting for the freedom of their fellow Filipinos. For one thing, they might have been involved in actual banditry, looting and vandalism for their own interest and that of their families.
One of the patriots considered as bandits by the foreign rulers was Gen. Macario Sakay, who was executed by the Americans in 1907 under the Bandolerism Act that proclaimed all captured resistance fighters to be tried by the court as bandits, robbers or ladrones.

Sakay was one of the original Kataastaasang, Kagalanggalangang Katipunan ng mga Anak ng Bayan (KKK) officials who continued to fight the Americans even as the US had declared that the Filipino-American War ended in 1902.

Gen. Luis Malinis, a close aide of KKK revolutionary leader Andres Bonifacio, was also tagged as a notorious bandit by the Spaniards. Malinis died in the so-called Battle of Novaliches which took place in November 1897.

Even Gen. Apolonio Samson, one of the very first Filipino patriots who expressed support for the noble mission of Bonifacio and his men to free the country from the Spanish tyrannic rule at that time, was also branded as bandit during the early years of the Philippine Constabulary (PC), which was organized in 1901.

Samson was hunted as the "Terror of Novaliches" whose "guerrilla raids extended to the Diliman-Caloocan area in Rizal and the San Jose-Norzagaray towns in Bulakan, according to the book "Pio Del Pilar & Other Heroes" written by Orlino A. Ochosa and edited with an introduction and afterword by Frank A. Hilario.
It may also be safe to say that even Gen. Emilio F. Aguinaldo might have used a part of that bandits' trail on his trek from his home province Cavite to transfer his headquarters to Biyak-na-Bato in San Miguel via Laguna, Morong and Bulakan provinces in May 1897.
When finally constructed as a road fit for motor vehicles, that route was named Novaliches-Ipo-Norzagaray Road. It began from Norzagaray and ended in Balintawak, Quezon City, passing through Sapang Palay, San Jose del Monte City, Novaliches, Caloocan before linking with A. Bonifacio Ave. at the Cloverleaf Bridge interchange in Balintawak, Quezon City. A. Bonifacio Ave. begins from Balintawak and ends at the Quezon City-Manila boundary near the Chinese General Hospital and Medical Center and the Manila North Cemetery.
The same road was renamed later as Quirino Highway in honor of President Elpidio Quirino who, upon his retirement from politics on Dec. 30, 1953, chose to build his summer rest house atop a hill overlooking the scenic La Mesa dam and reservoir in Novaliches and the rest of Metro Manila. It was there where he died on Feb. 29, a leap day, in 1956.
In 1945, instead of using the old Manila North Road, the Filipino-American forces of Gen. Douglas MacArthur chose to utilize the Novaliches-Ipo-Norzagaray Road on their way from Lingayen, Pangasinan, Tarlac, Nueva Ecija and Bulakan to liberate Manila from the invading Japanese soldiers in 1945.

A fierce battle took place on both approaches of the Novaliches-Tulyahan River bridge between MacArthur's men and Japanese soldiers on Feb. 3, 1945 before the liberating Filipino-American troops were able to proceed from Novaliches to Manila, just about 18 kilometers away. (PNA)