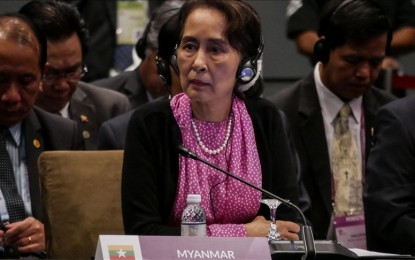 MANILA – The Philippine government on Tuesday expressed "deep concern" over the political strife in Myanmar and the arrest of State Counselor Aung San Suu Kyi after the country's powerful military carried out a coup d'état on Feb. 1.
"The Philippine government is following with deep concern the developing situation in Myanmar, and is especially concerned with the safety of Daw Aung San Suu Kyi," the Department of Foreign Affairs (DFA) said.
The agency underscored that Myanmar has made "substantial and important strides" toward democratization in recent years and that Manila "has supported these efforts".
Suu Kyi, the de facto leader of Myanmar's democratically-elected government, was arrested and detained on Feb. 1 along with some senior political officials after the armed forces seized and declared the transfer of all legislative, executive, and judicial powers.
The coup follows days of escalated tension in Myanmar over the aftermath of its November 2020 polls, where Suu Kyi's ruling National League for Democracy (NLD) won a landslide victory and reportedly secured 80 percent of seats.
Myanmar's general elections last year were the second democratic polls in the Southeast Asian nation since 2015 after the end of nearly 25 years of military rule.
In a separate statement, United Nations Secretary-General António Guterres called on the military leadership to "respect the will of the people and adhere to democratic norms" and to resolve any differences through peaceful dialogue.
Meanwhile, the Association of Southeast Asian Nations (Asean) urged for a "dialogue, reconciliation and the return to normalcy in accordance with the will and interests of the people of Myanmar."
"We recall the purposes and the principles enshrined in the Asean Charter, including, the adherence to the principles of democracy, the rule of law and good governance, respect for and protection of human rights and fundamental freedoms," it said in a statement.
"We reiterate that the political stability in Asean Member States is essential to achieving a peaceful, stable and prosperous Asean Community," it added.
The DFA advised all Filipinos in the country to "exercise caution, monitor development through reputable sources, and observe guidance of local authorities."
For emergencies, the Philippine Embassy in Yangon may be reached at (+95-1) 558-149 to 151, (+95-9)2507-65938, or at [email protected] (PNA)