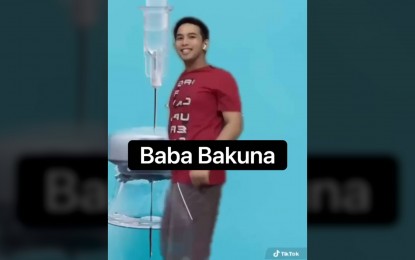 MANILA – A TikTok user is making good use of the platform and his dancing talent in promoting a timely cause – encouraging Filipinos to get a Covid shot.
Jerome "Jero" Pascual, @superjerooo on TikTok and @superjeroooo on both Twitter and Instagram, dances with his heart on his sleeve.
With the help of his friends, Jero created the #BakunaDanceChallenge, from conceptualization to execution, in less than a day.
"Meron akong mga friends na nakaisip na mag-raise ng awareness about dun sa vaccine since hot topic talaga siya ngayon. Ako naman, alam nila na mahilig sumayaw at meron TikTok account and they asked me if I can help them in delivering the message to the public (I have friends who thought about raising awareness about the vaccine. They knew I like dancing and have a TikTok account so they asked me if I can help in delivering the message to the public)," Jero said in a phone interview.
To the tune of "The Choopeta Song" by Brazilian girl group T Rio, Jero danced with gusto to the lyrics "Magpabakuna ka na, ating labanan at pigilan ang Covid-19, puksain 'yan (Get vaccinated. Beat Covid-19)."
"Then they asked me to create the steps. So, we made sure na basic lang 'yung (they were just basic) steps. Though ako gumawa, sinasabihan nila ko na basic lang 'yung gawin ko para madaling sundan ng iba (Though I made the dance, they told me to make it basic so it will be easy to follow)," he said.
While he hopes that those in social media will appreciate, enjoy and do the dance challenge, he said its main purpose was to inspire and persuade people to get inoculated against Covid-19.
Even when the vaccines are set to arrive in the middle of this month, some Filipinos are still hesitant to get jabs perhaps due to misinformation and reports of adverse reactions.
A recent Pulse Asia survey shows that almost half of Filipino adults or 47 percent are "not inclined" to get the Covid-19 vaccine. Concern about the safety of the vaccines was the reason cited why almost half of Filipino adults are not willing to get vaccinated.
"Honestly ako meron pa din akong doubts sa vaccine pero mas nangingibabaw sa akin 'yung hindi naman sya ire-release sa public kundi siya safe at kung 'di siya makakatulong sa mas maraming tao. I'm getting the vaccine (Honestly, I have doubts but I believe the vaccine won't be released to the public if it isn't safe)," Jero said.
Social media is filling up with misinformation about the vaccine and to counter this, Jero encouraged influencers and the youth to use their platform "properly" and help set a good standard for their followers.
"To the youth especially the ones with large followers, use your platform properly and let's not make this about politics because it is not. Vaccination is a collective action that everyone can contribute so that we can all go back to normal," he said. "Tinatawag silang influencers. Dapat influence for the right things ang gawin nila (They're called influencers. They should be an influence for the right things)."
And once the pandemic is over, Jero would love to travel again and visit Baguio or Boracay without the hassle of travel restrictions and free of fear of getting infected with the disease.
"Ang dami pa proseso na gagawin at saka mataas pa rin talaga 'yung risk. So nakaka-miss din talaga na mag-travel (There are so many processes that need to be completed and the risk is still high. So, I really do miss traveling)," he said. (PNA)