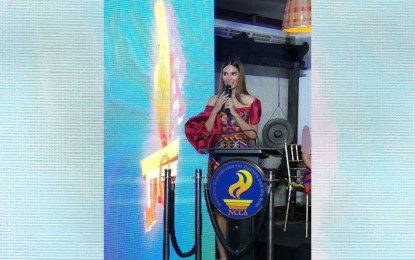 MANILA – Arts ambassador and Miss Universe 2018 Catriona Gray, in partnership with the National Commission for Culture and the Arts (NCCA), will showcase the "Kultura 101" web series on February 20, as the country celebrates Arts Month.
In a virtual presser Wednesday afternoon, Gray said this is a light-hearted web series that will feature the country's textiles, dances, food, and other things depicting the Filipino culture.
The five-episode program to be streamed on her and NCCA's Facebook pages, is not just for Filipinos here but also for those who could not go home, Gray said.
Being an NCCA ambassador for the arts since last year allowed her to have a new mindset, she said. "Arts allowed us to be connected with each other. Arts are meant to be shared."
Her role also enabled her to travel to Zamboanga, Laguna, and Rizal to promote the arts, she added.
In the same presser, Communications Assistant Secretary Marie Rafael acknowledged that the pandemic has brought challenges to the industry. Artists, for instance, held virtual concerts for free.
"I congratulate the NCCA, our partner agencies, who have been very supportive of promoting culture and the arts despite the challenges," Rafael said.
She said the arts fostered understanding among communities despite political differences.
Meanwhile, the NCCA will stage virtual activities as part of the National Arts Month celebration.
Among these include the "Musikapuluan Pintigan: Serye ng Konsiyerto para sa Buwan ng Sining", an online concert series that highlights the musical cultures of the country; "Tampok 2021: E-Turo Dula and e-Pasundayag", a specialized online theater courses; an online film festival, among others. (PNA)