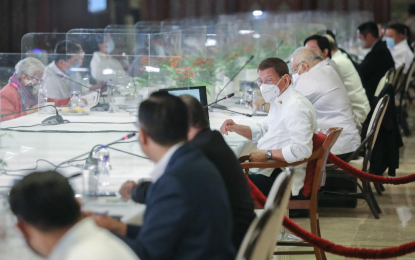 MANILA – President Rodrigo Duterte has approved the allocation of PHP362 million for genomic biosurveillance, which is expected to strengthen the government's overall coronavirus disease 2019 (Covid-19) response.
In a virtual presser on Thursday, Cabinet Secretary Karlo Nograles said the President approved the recommendation during the 51st Cabinet meeting held at Malacañan Palace on Wednesday.
Nograles said genomic biosurveillance is expected to improve efforts to trace close contacts of individuals found positive for the B.1.1.7 SARS-CoV-2 variant, also known as the United Kingdom (UK) variant.
"With different strains and variants of the Covid-19 virus now emerging, the Department of Health (DOH) will be mobilizing resources and investing in genomic biosurveillance, which will strengthen and improve our overall Covid-19 response as the conduct of whole genome sequencing and bioinformatics analysis of the virus will enable us to understand the evolution of the virus across geographical and time scales as well as the impact of specific mutations on viral properties including infectiousness and virulence," he said.
Citing the DOH, Nograles said genomic surveillance is also critical input for the country's national vaccine deployment program.
He explained that a better understanding of the virus and its possible mutations will enable the government to implement a more responsive vaccination program, execute other existing health interventions, and prepare for future pandemics.
Earlier, Philippine Genome Center Executive Director Cynthia Salome said the genomic biosurveillance must be strengthened through sequencing of more samples, particularly from areas with recent clusters of infections, incoming travelers, and hospitalized patients to keep track of the changes within the circulating local viral populations.
Genome sequencing is used to check for the presence of Covid-19 variants. It is done by analyzing a sample taken from a diagnosed patient and comparing it with others.
Vaccine confidence
Amid high public hesitancy on Covid-19 vaccines, Nograles expressed confidence that numbers would improve once the government starts rolling out its immunization program.
"Pag nag-umpisa na po ang rollout at ang uunahin naman po natin mga medical and health front-liners who presumably naiintindihan nila ang importance ng vaccine, so pag nag-roll out na po tayo by mid-February at napakita natin sa publiko na okay naman, safe naman, effective, tataas at tataas po ang kumpiyansa (When we start the rollout and prioritize medical and health front-liners who presumably understand the importance of vaccines, when we roll out by mid-February and show the public that it's okay, safe, and effective, vaccine confidence will improve)" he said.
He emphasized the need to raise vaccine confidence regardless of brand amid rising distrust on Chinese-developed vaccines.
"Kasi kailangan yung mensahe po is basta approved ng [Food and Drug Administration] po natin, regardless of the brand, e dumaan po sa masinsinan at mahigpit na proseso 'yan para ma-approve ng FDA (The message should be that as long as it is approved by FDA, regardless of brand, it means it went through a strict process)," he said.
Nograles pointed out that the government will need to boost its "Explain, Explain, Explain" campaign to improve public trust toward the vaccination program.
"I think it's really lack of information and lack of information really comes in certain biases. So really the way to combat it is just to really propagate and continue driving yung (the) information campaign. It has to be a campaign na not only government is involved in, but we'd also like to ask the help and support of different stakeholders, kasama na po diyan yung mga kaibigan natin sa (and our friends in the) media and even those in the public sector," he said.
He also assured that local government units (LGUs), especially those in Metro Manila, are adequately prepared for the vaccine rollout.
On Monday, vaccine czar Carlito Galvez Jr. said the country has so far secured up to 108 million doses of Covid-19 vaccines after it signed five term sheets with vaccine manufacturers.
Some 5.6 million Covid-19 vaccines from Pfizer and AstraZeneca are expected to arrive in the country within the first quarter of the year.
Some 117,000 doses of Covid-19 vaccines produced by Pfizer will be the first to arrive on Feb. 20 and these will be delivered in one tranche, Galvez said.
It would be followed by the arrival of around 5,500,000 to 9,290,400 doses of AstraZeneca vaccines to be delivered on the first and second quarter of this year, he added.
Around 50,000 Covid-19 vaccines from Sinovac are also expected to arrive this February. (PNA)