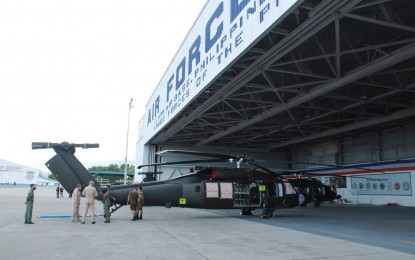 MANILA – President Rodrigo Duterte has approved the acquisition of 15 Black Hawk helicopters to address the growing heli-lift deficiency of the Philippine Air Force (PAF), Cabinet Secretary Karlos Nograles announced on Thursday.
Duterte gave his nod during the 51st Cabinet meeting held at Malacañan Palace on Wednesday, Nograles said in a virtual presser.
"The Department of National Defense says we actually require a total of 76 helicopters, and while the President initially agreed to acquire 55 new helicopters, that number has been reduced to 15 owing to the challenges we currently face," Nograles said.
Nograles said Duterte has also ordered the decommissioning of all the PAF's UH-1H "Huey" combat utility aircraft helicopters following the Jan. 16 crash in Bukidnon.
Duterte gave the latest directive, as he acknowledged that Huey helicopters are already "due for retirement," Nograles said.
"The President wants to end all these tragic deaths. Our service and their families deserve better. Itong mga Huey na gamit ng PAF, mas matanda pa sa atin (These Huey helicopters the PAF is using are older than us)," he said.
The PAF has refurbished UH-1H and UH-1D models or "Hueys", a Vietnam War-era helicopters, to serve as its main workhorses.
On Jan. 16, a Huey helicopter that went on a supply mission to a patrol base in Bukidnon crashed after encountering engine trouble.
Killed in the crash were Lt. Col. Arnie Arroyo, pilot; 2nd Lt. Mark Anthony Caabay, co-pilot; Sgt. Mervin Bersabe; Airman 1st Class Stephen Agarrado; Sgt. Julius Salvado; Jerry Ayocdo; and Jhamel Sugalang.
The recent plane crash was the fourth incident reported in six months, three involving Huey helicopters.
On Jan. 22, Duterte vowed to find funds for the procurement of at least seven new helicopters for PAF. He made the promise, as he admitted that it is "painful" to see soldiers die in the line of duty.
Nograles said Duterte decided to purchase just 15 Black Hawk helicopters, instead of 55 helicopters, due to "budget restrictions."
"Given these realities and limitations, syempre, we have to temper kung ano 'yung makakayanan lang natin (of course, we have to temper what we could just achieve). And the realistic number that was discussed was possibly 15," he said.
The PAF earlier commissioned the first six of 16 Polish-made Sikorsky S-70i Black Hawk helicopters it ordered in 2019 as part of its program to modernize its fleet of helicopters.
The remaining 10 units are expected to arrive in the country within the first quarter of 2021.
The brand-new Black Hawk helicopters, manufactured by PZL Mielec, a Lockheed Martin/Sikorsky company in Poland, will provide the PAF with sustained day-and-night tactical lift, transport, and search-and-rescue capabilities.
The Philippine government purchased the helicopters under the USD241.5-million government-to-government contract with Poland to meet the Horizon 2 phase of the Revised Armed Forces of the Philippines Modernization Program. (PNA)