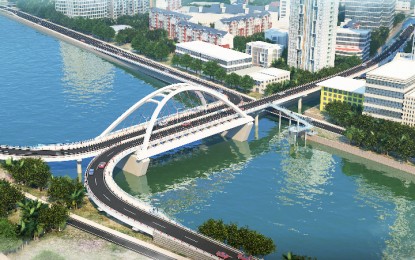 MANILA – The construction of a China-funded bridge connecting Binondo and Intramuros is expected to be completed within 2021, the Chinese Embassy in Manila said Thursday.
The flagship project under the "Build, Build, Build" program would offer a two-way, four-lane bridge over the Pasig River.
Chinese Ambassador Huang Xilian and Public Works and Highways chief Mark Villar visited on Thursday the Binondo-Intramuros Bridge site project to check on the construction's progress.
"The main bridge of the project is so far 90 percent completed and is expected to open within this year. By then, it will serve over 30,000 vehicles per day and substantially relieve the traffic congestion along the river," the embassy said in a statement.
The initiative was one of the first China-granted infrastructure projects in Metro Manila constructed under President Rodrigo Duterte's administration.
Iconic landscape
Villar said the China-funded bridge will become a new iconic landscape of the country.
"By September 2021, this attractive design of the arch bridge that symbolizes the friendly cooperation between China and the Philippines will become a new iconic landscape connecting the Binondo and Intramuros districts of Manila," he said in a statement.
He said the project, with a total cost of PHP3.39 billion, employed many advanced construction methods shared by Chinese to the Filipino workers such as the steel arch bridge assembly, pushing method and the bottom construction method of the boxed cofferdam and building a solid piling foundation.
DPWH Undersecretary for Unified Project Management Office (UPMO) Operations Emil Sadain said the Binondo-Intramuros Bridge involves the construction of four-lane, basket-handle tied steel arch bridge.
It will have a total length of 680 lineal meters connecting the District of Intramuros at Solana Street and Riverside Drive and District of Binondo at Rentas Street/Plaza Del Conde Street and Muelle dela Industria having a viaduct structure over Estero de Binondo, he added.
It is designed with the new seismic specifications and taking into consideration the impact of climate change.
Another China-funded project, the Estrella-Pantaleon Bridge linking Makati and Mandaluyong is now also 79 percent done and on track for an opening date in the first half of 2021.
The embassy said three priority bridges funded by China "just concluded the commercial contracts last December and is expected to kick off by June this year."
Citing Huang, the embassy noted that the government-to-government cooperation projects between Manila and Beijing have now entered into a new stage of implementation.
"With the joint efforts of both sides, 11 projects have been completed and 12 projects are being implemented or are about to be implemented," it said.
Among these infrastructure projects are the Philippine-Sino Center for Agricultural Technology-Technical Cooperation Program Phase III and the Chico River Pump Irrigation Project both expected to be completed by the end of 2021.
There are also 10 more projects under active negotiation, the embassy said. (With reports of Ferdinand Patinio/PNA)