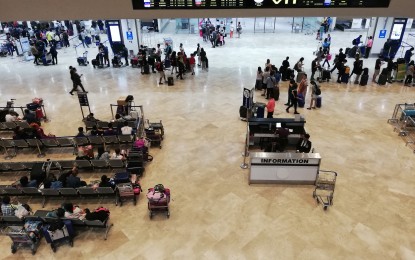 MANILA – The Inter-Agency Task Force for the Management of Emerging Infectious Diseases (IATF-EID) has expanded the list of foreigners who can enter the Philippines amid the coronavirus disease 2019 (Covid-19) pandemic.
Foreigners who have visas issued as of March 20, 2020, as well as those who have valid and existing visas at the time of entry, are allowed to visit the country beginning Feb. 16, Presidential Spokesperson Harry Roque said in a press statement.
"The Inter-Agency Task Force on Thursday, February 4, 2021, allowed the entry to the Philippines of foreign nationals with visas issued as of March 20, 2020, and still valid and existing at the time of entry, and who were not permitted to enter the country under previous IATF resolutions," Roque said.
Roque said foreign travelers with "valid and existing" Special Resident and Retirees Visa (SRRV) and Section 9 (a) or temporary visa can also go to the Philippines, so long as they present an entry exemption document to the Bureau of Immigration (BI) upon arrival.
"This shall take effect on February 16, 2021 and shall be subject to [certain] conditions," he said.
Roque said foreigners who wish to visit the Philippines must have pre-booked accommodation for at least six nights in an accredited quarantine hotel or facility.
Foreign travelers must also undergo a reverse transcription-polymerase chain reaction (RT-PCR) test six days after their arrival, Roque said.
Their entry, he said, would also be subject to the "maximum capacity of inbound passengers at the port and date of entry."
"This expanded list, however, is without prejudice to existing immigration laws, rules and regulations," he said.
Roque said BI Commissioner Jaime Morente has the "exclusive" prerogative to decide on waiver or recall of exclusion orders for all foreign nationals allowed to enter the country under relevant IATF resolutions.
In a separate statement, Roque also clarified that foreign tourists are still prohibited from visiting the country unless they are covered "with exemptions."
He said the exemptions should have "endorsement from individual departments" of the government.
Only foreigners with valid visas, including personnel of accredited international organizations, and spouses and minor children of Filipino citizens, were initially allowed to enter the Philippines due to the threat posed by the new variant of Covid-19, otherwise known as the UK variant. (PNA)