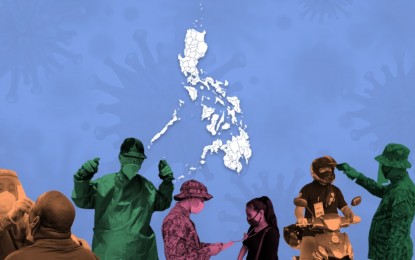 MANILA – The Inter-Agency Task Force for the Management of Emerging Infectious Diseases (IATF-EID) has approved the list of priority population groups for the inoculation of the coronavirus disease 2019 (Covid-19) vaccines in the country.
During a meeting on Thursday, the IATF-EID adopted the resolution presented by the Interim National Immunization Technical Advisory Group (iNITAG) and the DOH Technical Advisory Group (DOH-TAG), Presidential Spokesperson Harry Roque said on Friday in a press statement.
The resolution, Roque said, contains a prioritization framework for national, local, public and private distribution and prioritization criteria for Priority Group A1.
He said front-line health workers in both national and local and private and public facilities belong to Priority Group "A1."
Also included in Priority Group A1 are health professionals and non-professionals like students, nursing aides, janitors, and barangay health workers, Roque said.
He said the recommendations on the criteria for allocation of the first batch of Pfizer-BioNTech vaccines were also approved by the IATF-EID.
"With regard to the allocation of the first tranche of the Pfizer BioNTech vaccine for healthcare workers, this will be the allocation framework to be followed: a) the Covid-19 dedicated hospitals, b) Covid-19 referral hospitals, c) DOH-owned hospitals, d) LGU hospitals, e) hospitals for uniformed services/personnel, and f) private hospitals," he said.
The Philippines is expected to receive 117,000 Pfizer-BioNTech doses this month through the Covid-19 Vaccines Global Access (COVAX) facility.
Vaccine czar Carlito Galvez Jr. on Wednesday said the Philippines would request for around 900,000 more doses of Pfizer vaccines through the COVAX facility to raise the initial supply of 117,000 doses to one million.
Galvez also said healthcare workers at the Philippine General Hospital in Manila; Lung Center of the Philippines and East Avenue Medical Center in Quezon City, and Dr. Jose Natalio Rodriguez Memorial Medical Center in Caloocan City will be the first to be vaccinated against Covid-19.
Other priority groups
Roque said senior citizens are listed under Priority Group "A2," while persons with comorbidities are under Priority Group "A3."
Frontline personnel in essential sectors, including uniformed personnel, belong to Priority Group "A4," while indigents fall under Priority Group "A5," he said.
Roque said teachers and social workers belong to Priority Group "B1," while other government workers and essential workers are listed under Priority Groups "B2" and "B3," respectively.
He said listed under Priority Group "B4" are socio-demographic groups at "significantly higher risk other than senior citizens and indigenous people," while overseas Filipino Workers and other remaining workforce fall under Priority Groups "B5" and "B6," respectively.
He said the rest of the Filipino population is under Priority Group "C."
He said the IATF-EID also gave its nod to the recommendations on health profiling, screening, and informed consent in the patient pathway, as well as on vaccination cards.
"The iNITAG also underscored that any specific inclusion and exclusion criteria of each vaccine, as reflected in the respective Emergency Use Authorization of the Food and Drug Administration, or recommendations from the Health Technology Assessment Council shall be considered," he said.
Roque said the government would select areas for sub-prioritization based on the Covid-19 burden of disease, which includes the "current active cases, attack rate per 100,000 population in the past 4 weeks, and population density."
The government would also depend on the vaccination site and the local government unit's readiness, particularly when it comes to its supply chain capability, Roque added. (PNA)