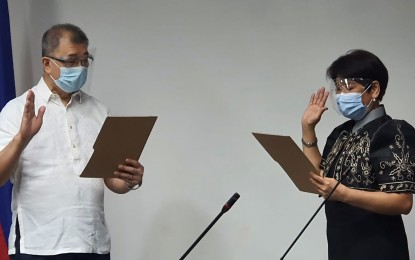 MANILA – Newly appointed director of the Food and Nutrition Research Institute (FNRI), Imelda Agdeppa, plans to prioritize product development and research during her stint.
In an interview with the Philippine News Agency (PNA) on Friday, Agdeppa said she wants to continue developing food products that address stunting and conduct research on immune-boosting food to help fight the coronavirus disease 2019 (Covid-19).
"I would like (the FNRI) to develop another variant of the squash nutribun. This will use yellow-orange camote and carrots. Also, I would like us to develop the technology of nutri meal in a pack, where we will pack nutrient-dense food in a box to sustain a child's meal," she said.
The FNRI will strive to be at the forefront of research and development (R&D) in food, nutrition, and technological services by conducting more nutrition problem-focused interventions, Agdeppa said.
This, she said, would be achieved by developing food products, tools, and standards, as well as by implementing nutrigenomics in the field of metabolomics.
Nutrigenomics is the study of the effects of nutrient intake on gene function and health.
"In this case, we use metabolomics or the study of metabolites, which encompasses all the chemical reactions that take place within cells to provide energy for vital processes," Agdeppa said. "We hypothesize that stunted children might have low levels of essential amino acids due to inadequate dietary intake."
She noted that the FNRI has developed various innovations or projects, such as the "Pinggang Pinoy" food guide, low-cost nutritious recipes, and the dietary management of chronic kidney disease.
In the next two years, Agdeppa will focus on conducting more research, specifically on immune-boosters.
As for her plan to develop another variant of nutribun, it may be recalled that the FNRI launched last year an enhanced version of this bread, called the e-nutribun.
It has an improved texture, while still carrying the requirement of more or less 500 kilocalories.
Science and Technology Secretary Fortunato de la Peña earlier cited the success of the e-nutribun project, noting that many firms want to adopt the technology.
When asked why he chose Agdeppa to be the new FNRI chief, de la Peña said he had worked with her in the study on the effectiveness of virgin coconut oil (VCO) as an adjunct therapy for Covid-19.
"I have worked with her closely in the VCO clinical trial in Santa Rosa, Laguna and I saw how she exerted extra effort in her work to deliver the outputs on time," he told PNA after Agdeppa's oath-taking on January 21.
Agdeppa, who led the VCO study, is a good team leader, de la Peña said.
"When the search committee ranked her first among the nominees, I did not hesitate to recommend her for the Presidential appointment," he said.
Agdeppa, meanwhile, said the VCO study would be replicated in Valenzuela City, wherein VCO would be given to suspect and probable cases of Covid-19.
"The LGU (local government unit) led by Mayor Rex Gatchalian is very receptive and keen to replicate this study," she said.
Recruitment for participants has begun. Half of the 120 participants will be provided with the intervention while half will belong to the control group whose members would not receive VCO mixed in their meals.
As to how the FNRI would reach more people amid the pandemic, Agdeppa said the institute would continue to go digital and make use of social media channels for communication and networking. (PNA)