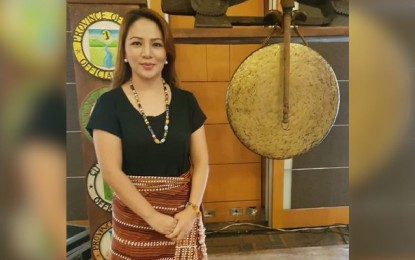 BAGUIO CITY – An official of the Presidential Communications Operation Office (PCOO) has called on concerned agencies to come up with better ways on how to depict the indigenous peoples in the country.
"We call on publishers, writers, fellow workers in government, the Department of Education (DepEd), and the National Commission on Indigenous People to work on better ways in coming up with how different indigenous peoples are depicted. And, making our children understand and appreciate the cultural sensitivities of each tribe, not only for us but for other indigenous groups," PCOO Assistant Secretary Marie Rafael said in a phone interview with the Philippine News Agency on Monday.
Rafael was reacting to a book titled "Masayang Buhay (Binagong Edition 2001)," wherein an image of a man with black curly hair was shown saying, "Isa akong Igorot. Kulot na kulot ang itim kong buhok (I am an Igorot. My black hair is curly)."
Rafael, an Igorot herself, joined the "Proud To Be Igorot Challenge" and posted on social media her photo garbed in the traditional attire of her tribe.
The challenge became a trend after the reported misrepresentation of the Igorots on textbooks.
She said one distinct characteristic of the different tribes of "Igorots" is the pride of their ancestry and respect for elders.
She said she is a proud Igorot who comes from Mountain Province with mixed blood of the Ga'dang tribe from her maternal side and Balangao tribe from her father's side.
"I was raised by my parents who take pride in who they are as a people. We grew up listening to stories of bravery and honor of our forefathers. We grew up learning our native dances and respecting our rituals. More than anything, we were taught the value of giving due respect to our elders and take pride in every sacrifice they have gone through," she said.
Rafael, an indigenous peoples advocate, also served as mayor of Natonin town where her ascendants from the maternal side originated.
"I am proud of my roots, my tribe and the people I call 'kailyan' (town mates) and we attach our lives to the land we and/or our ancestors lived and had toiled. We are just proud, no whys," she said.
She said Igorots like her are not what others perceive — with tails, uneducated and ignorant.
Like the many Igorots who have made a name in the national scene, she and many young people, even those who came before them, work hard to acquire an education of the highest degree.
Rafael finished her Master of Laws degree at the Australian National University aside from being a lawyer.
She defined an Igorot as "people born in the Cordilleras who come from the different tribes and of ethnic ancestry but are neither barbaric nor ignorant that other people have in their minds.
Meanwhile, Mountain Province Rep. Maximo Dalog Jr., a certified public accountant and a lawyer, also posted on social media his letter to DepEd asking that corrective measures be done on the offensive depiction of Igorots in books and modules of students.
"We were alarmed, offended, and annoyed by the portrayal and description of us. That is why we made a letter to (DepEd) Secretary (Leonor) Liling Briones to make the necessary corrections or to rectify the errors being portrayed against the Igorots," he said.
Kalinga Rep. Allen Jesse Mangaoang, in a post on social media, said: "We have raised the same concern to the CAR Regional Director through the phone. Our game plan was to pinpoint the DepEd personnel who conceptualized the module then we could now summon DepEd to shed light, and for concerned personnel to make a public apology."
Meanwhile, the DepEd said it has already recalled the distribution of a locally-developed learning material that "wrongly depicted" Igorots.
In a statement Tuesday, the DepEd said its investigation showed that the learning material's draft document was still undergoing quality assurance procedures but was "mistakenly reproduced in good faith by some school personnel." (PNA)