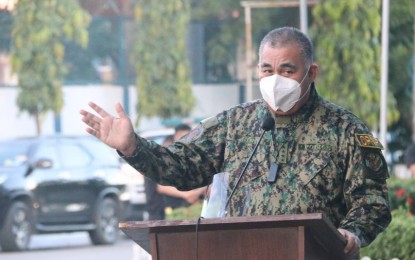 MANILA – Philippine National Police (PNP) chief Gen. Debold Sinas on Tuesday lauded the Police Regional Office in Caraga Region (PRO-13) for its significant gains in tracking down wanted persons in its anti-crime efforts last week.
This came after PRO-13 director Brig. Gen. Romeo M. Caramat Jr. led the arrest of 233 wanted persons, which include six most wanted persons (MWP) at the regional level; nine MWP at the provincial level, and 52 MWP at the city/municipal Level from Feb. 1 to 7, as an offshoot of the intelligence-driven weeklong simultaneous anti-criminality law enforcement operations dubbed as "Manhunt Charlie".
"This is evidently another accomplishment for the PNP. I am quite confident that PRO-13 will be able to hunt down the rest of the criminals who are subjects of warrants of arrest until all are put behind bars," Sinas said in a statement.
Through the PRO-13's case operation plans, nine ranking communist terrorist group members and one member of a private armed group were also arrested.
Caramat also said PRO-13 has received 1,311 arrest warrants from the different courts in the region from 2020 to date.
Close to 800 wanted persons have so far been arrested as of last month.
"PRO Caraga aims to serve the remaining warrants of arrest with at least 5-percent weekly target to achieve a 100-percent compliance by the end of the second quarter of CY (calendar year) 2021," Caramat said. (PNA)