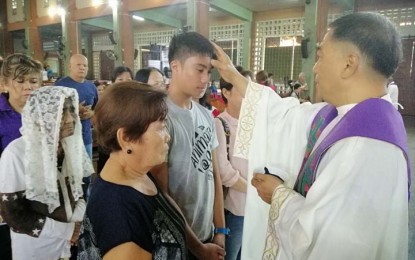 MANILA – The existing health and safety protocols will be followed in the observance of Ash Wednesday on Feb. 17, Cabinet Secretary Karlo Nograles said on Wednesday.
Nograles, co-chairperson of the Inter-Agency Task Force for the Management of Emerging Infectious Diseases (IATF-EID), said the protocols imposed for last year's celebration of Ash Wednesday would be applied to this year's event.
"Kumbaga the same rule should apply this year as in last year kasi yung health and safety protocols natin ay pareho pa rin (The same rule implement last year should apply this year because our health and safety protocols remain in effect)," Nograles said in an interview over state-run PTV-4.
As a preventive measure against the coronavirus disease 2019 (Covid-19), Catholic prelates in 2020 sprinkled the blessed ash on devotees' heads instead of the traditional marking of a cross on the forehead.
The Archdiocese of Manila, in Circular No. 2021-05, said Catholic faithful will be allowed to burn palms at home and use the ashes to sprinkle on family members on Ash Wednesday, which marks the start of Lent.
Parishes that will have difficulty finding old blessed palm branches for this year's Ash Wednesday could also use dried leaves of plants or trees as an alternative, based on the circular.
The palm branches blessed during the previous year's Palm Sunday mass are traditionally donated by parishioners to their parish.
The Vatican's Congregation for Divine Worship and the Discipline of the Sacraments, in a Jan. 12 note, directs priest to say the formula, "Repent, and believe in the Gospel," or "Remember that you are dust, and to dust you shall return," once to all the penitents present rather than to each person.
The note also states that the priest should cleanse his hands, put on a face mask, and distribute ashes to those who come to him, if appropriate, go to those who are standing in their places.
No request to hike venue capacity
The IATF-EID has yet to receive any request from the Catholic Church to ease venue capacity restrictions on Ash Wednesday, Nograles said.
"Ako personally, wala pa akong natatanggap na request mula sa religious sector sa pagi-increase ng capacity. Hindi ko po alam kung meron ng other members ng IATF na nakatanggap ng ganoong klaseng request (Personally, I do not receive any request from the religious sector to increase the capacity. I don't know if other IATF members receive such request)," he said.
At present, a 30-percent and 50-percent seating capacity for religious activities are allowed in areas under general community quarantine and modified general community quarantine, respectively.
Nograles said the IATF-EID would hold a meeting with the religious sector to discuss the rules that need to be imposed in observance of this year's Ash Wednesday. (PNA)