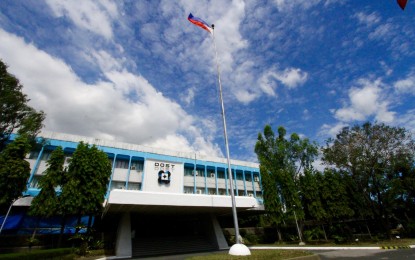 MANILA – The Department of Science and Technology in Region III (DOST-3) continues to empower a group of persons with disabilities (PWDs) in Floridablanca, Pampanga by providing technical assistance in bamboo handicraft making, Director Julius Ceasar Sicat said Wednesday.
Members of Floridablanca Association of Persons with Disabilities (FAPWD) were provided with livelihood training in June 2019, to help them improve their handicraft making skills. The group's operations, however, were hampered in 2020 due to the pandemic, Sicat told the Philippine News Agency in an interview.
"The group already possessed basic skills in handicraft and accessories making. We provided training to further improve their skills by letting them use other raw materials like bamboo. The activities included preparation of raw materials, designing, execution process and finishing," he said.
Sicat added that the FAPWD had difficulty in marketing their products. "They used to make bracelets and other accessories. They had difficulty in selling these because crystal bracelets and necklaces are common. They included handicrafts to reach a wider market, and for them to produce other products like house decors," he said.
Sicat said he plans to further help the FAPWD by linking them to indigenous people (IP) communities in Sitio Haduan in Mabalacat, Pampanga; Mayantoc, Tarlac; and Barangay Mawacat, Floridablanca. The latter is being assisted by the Poverty Reduction, Livelihood and Employment Cluster.
"Because of this, we can explore partnerships with other agencies to finance the procurement of bamboo materials for the FAPWD enterprise. DOST-3 is also exploring the possible expansion of the said technology-based livelihood project on bamboo that will justify the provision of such funding for both communities," he said.
DOST-3 had earlier provided PHP100,000 for the bamboo livelihood project, and this is mainly for the equipment and other training needs.
"This project is a grant so the beneficiaries are not expected to return anything to DOST. However, the beneficiaries have the responsibility to utilize their skills to produce the products which they will use to have additional income," Sicat noted.
The local government unit (LGU) of Floridablanca provided PHP15,000 for training representation, according to Sicat.
"The LGU of Floridablanca also assisted the FAPWD members through the provision of a manufacturing facility. They have also committed to assist in promoting the bamboo handicraft products of the association," he continued.
The IP communities have a rich source of bamboo, according to Sicat. One of the main sources of livelihood in Floridablanca is rice, and sugarcane farming, he said, adding that the DOST-3 initiated this project since bamboos are abundant in the area.
"We are optimistic because the FAPWD started to operate again this year after the easing of quarantine rules in the municipality. We provide continuous coordination and monitoring on the progress of procuring the materials and equipment," he said. (PNA)