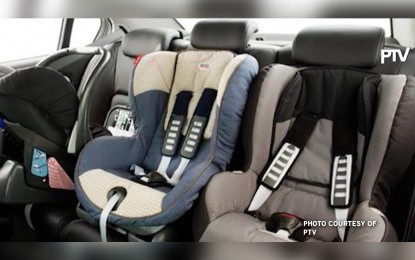 MANILA – Deputy Speaker Rufus Rodriguez on Thursday said deferring the implementation of the Child Car Seat Law would require the enactment of new legislation.
"It's Congress that passed the law requiring child car seats, and it's Congress that can suspend its implementation," Rodriguez said.
He said a joint House-Senate resolution would not suffice because the Supreme Court had ruled in an earlier case involving government nurses' basic pay that a resolution cannot prevail over a law.
In a virtual presser on Thursday, Presidential Spokesperson Harry Roque confirmed that President Rodrigo Duterte has deferred the implementation of Republic Act (RA) 11229 or the Child Safety in Motor Vehicles Act, as he acknowledged that it would be cumbersome to Filipinos who are already suffering due to the coronavirus disease 2019 (Covid-19) pandemic.
The full implementation of RA 11229 was supposed to take effect on February 2 but was deferred due to the current economic situation in the country amid the Covid-19 pandemic.
Rodriguez lauded Duterte's decision to defer the implementation of the Child Car Seat Law.
Duterte on Feb. 22, 2019 signed RA 11229 which mandates the use of child restraint systems (CRS) among children 12 years old and below with a height of 4 feet 11 inches and below.
The CRS, according to RA 11229, must be appropriate to a child's age, height, and weight, and must be mounted on a rear seat of the vehicle.
The CRS must also comply with standards set by the Department of Trade and Industry (DTI) as specified in DTI Department Administrative Order No. 20-03, and other international standards including those under the United Nations Regulations 44 and 149.
Anyone who uses expired or non-compliant child car seats will face a fine of PHP1,000 for the first offense, PHP3,000 for the second offense, and PHP5,000 for the third offense.
Manufacturers or sellers of non-compliant child car seats and those who fake compliance stickers will have to pay a fine of PHP50,000 to PHP100,000.
In the Senate, Senator Joel Villanueva welcomed Duterte's decision to stop implementation of child car seat law.
"Now let us take advantage of the pause ordered by President to perfect their implementation, to remove whatever unnecessary burden they impose on the people, while ensuring that the objectives of road and child safety will still be met," Villanueva said in a statement.
Rodriguez also welcomed Duterte's order not to make mandatory the Motor Vehicle Inspection System (MVIS) for motor vehicle registration by the Land Transportation Office (LTO).
He has filed a resolution calling for suspension of the MVIS requirement following numerous reports of inconsistencies and anomalies regarding these private inspection centers. (PNA)