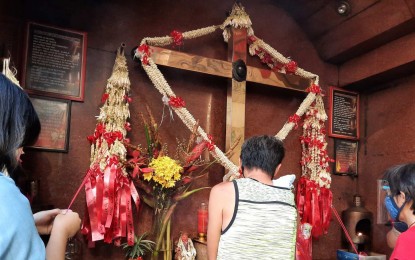 MANILA – Chinese New Year, one of the most vibrant events in the country no matter your nationality, took a different twist this year as the threat of the coronavirus disease 2019 (Covid-19) pandemic remains.
Chinese and Filipinos alike opted for toned-down celebrations in compliance with the order of the Manila city government, which called off all activities as part of safety protocols.
However, as Chinese culture is so embedded in the Philippines' way of life, many still flocked to Ongpin Street in Binondo for their tikoy (Chinese sticky cake), round fruits, and the lucky charms for the Year of the Metal Ox.
Behind masks and face shields, joy pervaded and physical distancing was followed.
"There are still buyers but we follow social distancing," said Daisy Fortes, who manages a food shop.
Sheryl Tan said her family would have a get-together dinner with the usual Chinese feast.
"Eating sticky food, like tikoy, is believed to bring good luck. We also share them with others and not only for ourselves," Tan said.
People also queued up and patiently waited for their turn to pray and lodge their petitions at the Santo Cristo De Longos, a cross along Ongpin Street that is believed to be miraculous while lighting incense sticks.
It was a perfect example of the marriage of beliefs between early Chinese settlers who embraced Catholicism but still return to their roots.
"Wishes come true here, that is why people keep coming back," shared Carlos Lee, a Filipino-Chinese-Korean who frequents the place to say his petitions.
Across Ongpin Street, one will find vendors of all kinds of lucky charms.
While some complained of low sales even at discounted prices, it is a different story in stores selling items that supposedly bring good luck.
Store owner Maxima Tiu said their "three coins" are very popular for being a "good financial aid".
As for good health, Tiu said it starts by taking good care of one's body and mind.
Above all else, she said, it is good character that makes one lucky.
"Family get-togethers are always the best. Be in harmony. Don't fight. Be happy. Say good words even when you are already irritated," Tiu advised. (PNA)