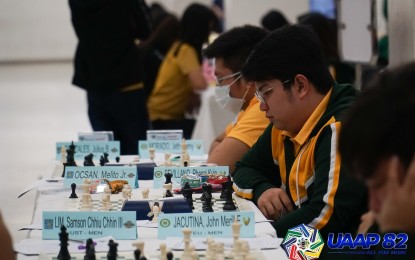 MANILA – Grandmaster (GM) Jayson Gonzales could not help but be too happy that his Far Eastern University (FEU) squad took a Top 10 finish in the Kasparov Chess Foundation University Cup despite being stuck at home with no over the board due to the pandemic.
"We are so fortunate despite the pandemic the FEU sports program continues, especially in chess. We owe our success to FEU management," Gonzales, the Tamaraws' head coach, said on Friday.
FEU's main squad, consisting of Darry Bernardo, Jeth Romy Morado, Rhenzi Kyle Sevillano, John Merill Jacutina, and alternate Kristian Glen Abuton, ended up as the best Philippine team in the event, placing 10th overall.
FEU Manila A actually tied for seventh with National Technical University of Athens A, St. Louis University A, and Moscow Institute of Physics and Technology A, with 6.5 points each.
After the tiebreakers, FEU Manila A had to settle for the 10th spot.
However, how the Tamaraws mainly got there was remarkable.
Bernardo, a member of the national para chess team that finished fifth in the FIDE Olympiad for People with Disability last year, shocked International Master Harshit Raja of the University of Missouri A in Board 4 play.
Bernardo finished with eight points out of a possible nine.
The second team of FEU's chess team in its Quezon City campus finished 18th overall, while its first team landed at number 28.
FEU Manila C ranked 39th, FEU Diliman C finished 54th, FEU Diliman D ended up in 73rd, and FEU Manila D placed 77th.
From the other Tamaraw contingents, reigning University Athletic Association of the Philippines Most Valuable Player Shania Mendoza made an impression.
Women's International Master Mendoza, now with the Palawan Queens' Gambit of the Professional Chess Association of the Philippines, amassed 7.5 points in her division.
On the other hand, April Joy Claros and Lemmuel Adena showcased their prowess too.
Claros, aged 13, went unbeaten with seven wins and two draws.
On the other hand, Adena pulled off one of the event's biggest upsets by beating GM Hovhannes Gabuzyan of the University of Texas Rio Grande (UTRG) B.
The UTRG's Team A went on to rule the tournament.
Meanwhile, University of Texas Dallas' Team A, coached by GM Ino Sadorra of the Manila Indios Braves, placed fourth. (PNA)