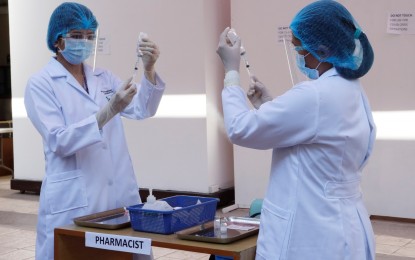 MANILA – The Philippine General Hospital is all set with the preparations and requirements for the rollout of coronavirus disease 2019 (Covid-19) vaccines.
"All set na po, low dead space syringe, 'yun lang po talaga ang 'di namin mahanap, kahit saan po kami maghanap na supplier (We're all set, we're just unable to find a supplier of low dead space syringe)," UP-PGH Director Dr. Gerardo Legazpi said in an online media forum Monday.
"As far as the people are concerned, as far as the administration and the management are concerned, we're all set, for whatever vaccine comes, for that matter. Kahit na ano pa mang dumating na vaccine (Whichever vaccines that will be arriving), requiring an ultra-low freezer or not, we're ready for that," Legazpi added.
He described as "overwhelming" the support of the PGH personnel on the vaccination.
About 94 percent of the medical and non-medical workers of the PGH have signed up for a Covid-19 vaccination survey which showed that 74 percent of the respondents agreed to be vaccinated.
"I think, we have their support, ang magiging very crucial lang po dito na maaaring panggalingan ng konting kontrobersya ay 'yung prioritization, kung hindi po mabibigyan lahat, kailangan po mag-decide, ako po ay mag-dedecide kung sino po ang mauuna (one thing that will be crucial here and may be a source of controversy is prioritization, if not everybody will be given vaccines, I will decide who will be prioritized)," Legazpi said.
Following the recommendation of the Department of Health, the PGH included its maintenance, outsourced and security personnel in its Covid-19 vaccination drive.
"Ang prinsipyo ng pagbabakuna, palagay ko, kung sino man ang nasa loob ng ospital na maaaring makahalubilo sa mga pasiyente at sa mga taong nag-aalaga sa mga pasiyente ay babakunahan (The principle of vaccination, I think, everyone inside the hospital who will mingle and take care of patients must be vaccinated). I think that's a very sound principle to follow because it's useless to have a hospital half-vaccinated and half still susceptible to the disease," Legazpi said.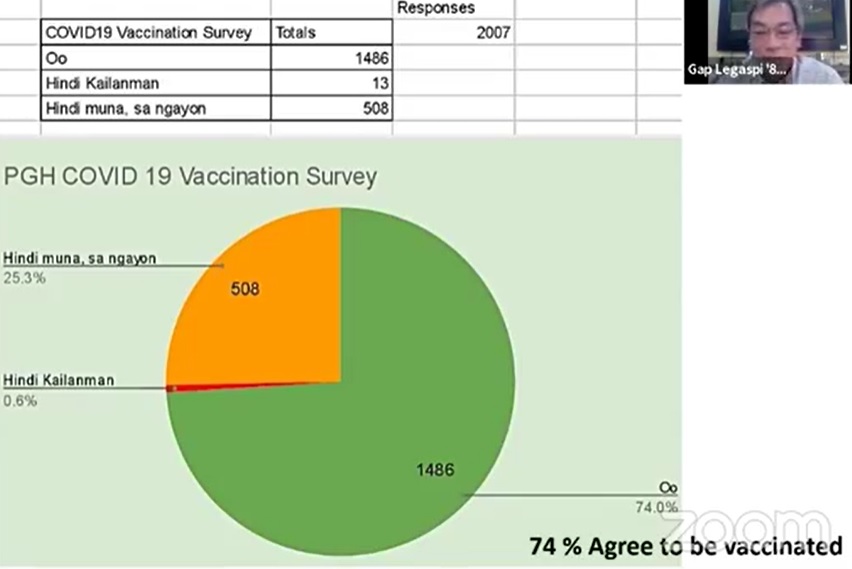 "In fact, sila po 'yung uunahin namin sa first day na babakunahan (In fact, we'll prioritize them on the first day of vaccination)," he added.
The waste management team of the PGH is also ready with the handling of all the vaccination wastes like syringes and needles which can cause health problems to the community.
"[The team] is headed by our engineering and waste management committee. Naka-timbre na rin po sa aming (We have also informed our) outsource toxic and hazardous waste materials contractor," Legazpi said.
Simulation exercise
PGH spokesperson Dr. Jonas del Rosario said they conducted a mass simulation exercise for the Covid-19 vaccination campaign participated in by some 50 employees on Monday afternoon.
Del Rosario said the move is to make sure that the PGH is well-prepared and ready for the upcoming vaccine rollout.
The overall flow of the vaccination dry run has four steps:
--Step 1 is the registration of those who wish to get shots of the Covid-19 vaccine.
--Step 2 is the screening process, counseling, and checking the recipient's current health status including vital signs, blood pressure, and body temperature.
--Step 3 is the vaccination proper.
--Step 4 is the monitoring of the adverse events of the Covid-19 vaccine to the recipients.
There are three categories that will be used in monitoring the side effects of the vaccine. The green light sign means the patients must be monitored in 15 minutes, the Yellow sign means patients will be observed for 30 minutes and the Red sign says the patient must be checked for one hour.
Del Rosario said the emergency response teams are all set and ready to assist vaccine recipients who will suffer from the adverse reactions after being administered with the Covid-19 vaccine.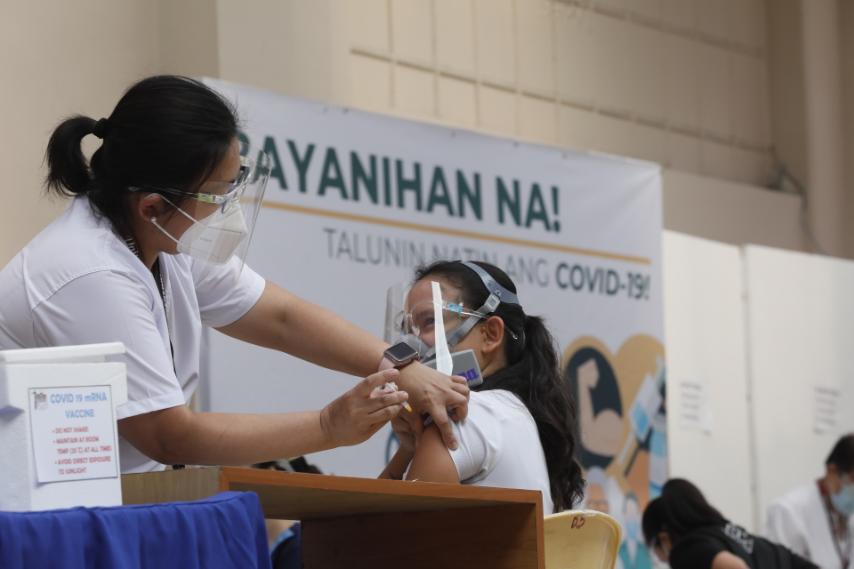 There are 10 doctors who will roam around to check the patients during the actual inoculation rollout.
Once the vaccine supplies arrive in the hospital, Del Rosario said the target of PGH is to complete the actual vaccination within seven days.
It will be done from 8 a.m. to 5 p.m., he added.
"We will finish it in one week, so mga (it's) five to seven days depende kung gaano kadami ang mabigay sa amin (depending on how many vaccines will be given to us)," he said, noting that the PGH is projecting to inoculate 975 individuals daily.
Del Rosario urged the PGH employees who have not yet registered to sign up for the vaccination program.
"Para more or less protected talaga ang lahat ng nagtatrabaho sa PGH (So that we can assure that more or less the workers in PGH are all protected)," he said.
He said 5,745 workers have so far registered with 5,406 of them giving their consent to get inoculated with Covid-19 vaccine.
Del Rosario said the PGH is set to receive an initial allocation of 4,875 doses of vaccines once the supplies become available.
The Covid-19 vaccine registration in PGH will end on Feb.17, del Rosario said. (With reports from Lade Jean Kagabani/PNA)