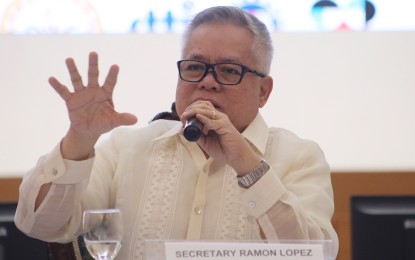 MANILA – Trade Secretary Ramon Lopez supports the recommendation of Acting Socioeconomic Planning Secretary Karl Kendrick Chua to place the entire country under modified general community quarantine (MGCQ) next month amid the increase in joblessness and poverty rate brought by the coronavirus disease 2019 (Covid-19) pandemic.
"It is about time we move to MGCQ after a year of lockdown," Lopez told reporters in a Viber message Tuesday. "Lockdown was supposed to buy us time to prepare our health system and improve contact tracing and 'Trace-Test-Treat'."
Since June 2020, the National Capital Region (NCR) has not graduated from GCQ status, a stricter community quarantine measure than MGCQ.
It even went back to much stricter modified enhanced community quarantine (MECQ) from Aug. 4 to 18 last year as health care facilities in Metro Manila were overwhelmed due to the increasing number of Covid-19 cases during that period.
"As the Philippines recovers, Metro Manila has a very weak recovery, worse in employment and hunger recovery, and that means more urban poor. The damages to malnutrition and other health and social issues will be irreversible," Lopez said.
NCR accounted for around 40 percent of the Philippine gross domestic product (GDP).
But Lopez added the reopening of more economic activities should depend on the Covid-19 statistics.
"But as we see the Covid cases generally going down even with gradual and calibrated reopening of (the) economy, we should continue gradual safe reopening of sectors and further relaxation to MGCQ," he said. (PNA)