MANILA – Foreign Affairs Secretary Teodoro Locsin Jr. on Tuesday underscored that Manila has a right to "expect some measure of lethal parity" in its Mutual Defense Treaty (MDT) with the United States.
Citing history, Locsin said it was assumed that the Philippines could hold up its end of the bargain of mutual defense when the MDT was established in 1951.
"US came WW2 (World War II) -- the best armed to the present. We came ruins worse than Warsaw. So we had and have a right to expect some measure of lethal parity in the mutual defense," he said.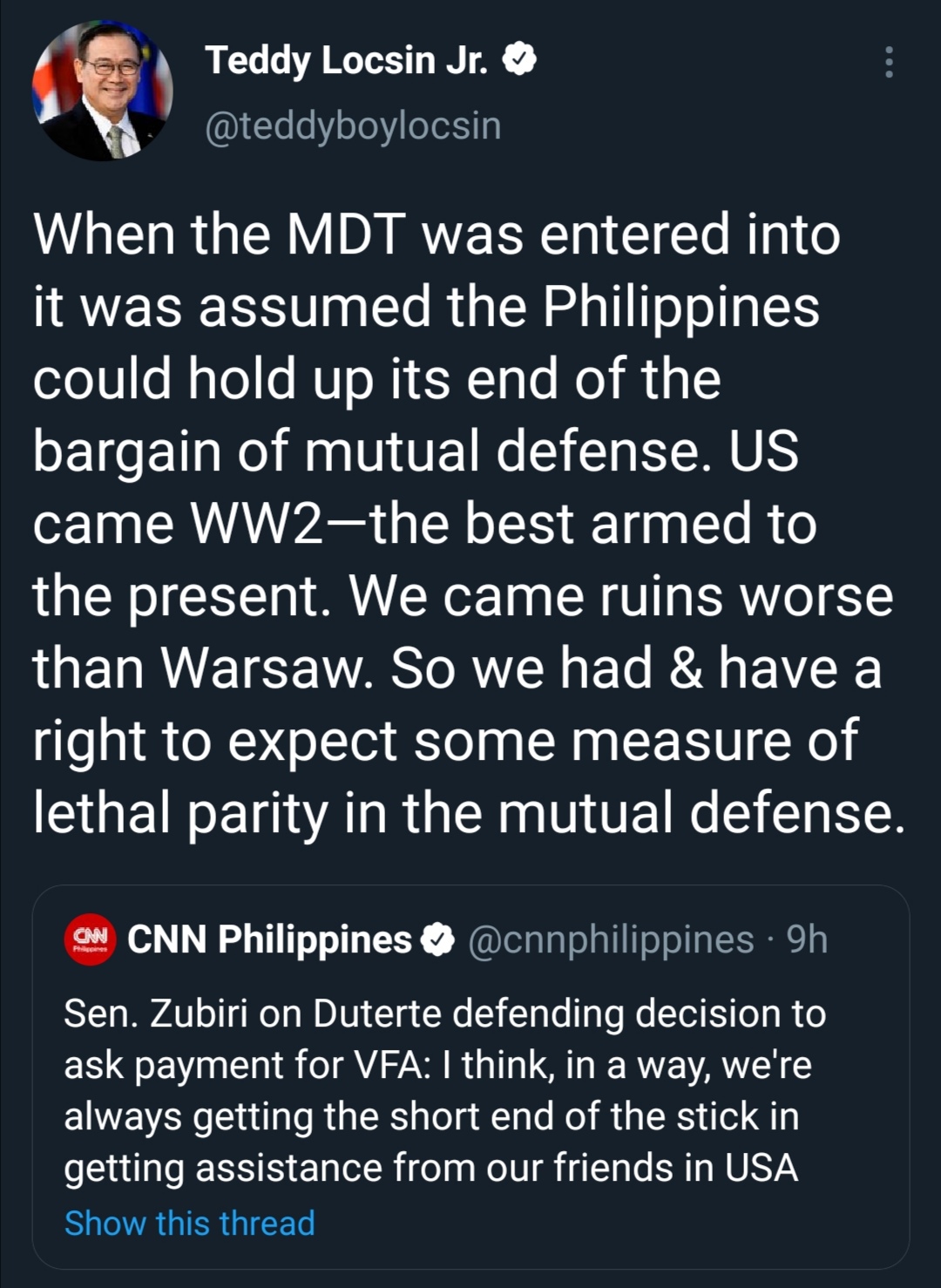 The MDT is triggered in the event of an armed attack on the "metropolitan territory" of the United States or the Philippines, including on the island territories under its jurisdiction in the Pacific or on its armed forces, public vessels, or aircraft.
READ: Palace floats possibility of reviewing MDT, EDCA anew
Malacanang earlier floated the possibility of reviewing the MDT, including the 2014 Enhanced Defense Cooperation Agreement (EDCA), noting both agreements' failure to prevent the entry of Chinese forces in disputed territories in the West Philippine Sea.
Locsin's statement also came after President Rodrigo Duterte demanded Washington to pay if it wants the Visiting Forces Agreement (VFA) to stay.
The government formally terminated the VFA, a US-Philippines deal that exempts American troops from passport and visa regulations upon entry and departure from the Philippines, in Feb. 2020.
The abrogation was then suspended for a period of six months twice, the second one of which was announced last Nov. 2020.
Presidential Spokesperson Harry Roque said there is no indication yet that the US government wants to offer compensation to extend the validity of the VFA.
"If they ask for what our demand is they will give it. But right now I think it's premature because there's no offer, there's no inquiry so far," he said in a virtual briefing on Tuesday. (PNA)