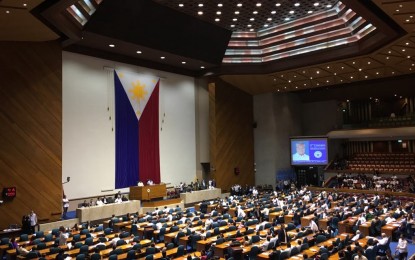 MANILA – More than 200 lawmakers from the House of Representatives have expressed support for the PHP420-billion stimulus package under the Bayanihan to Arise As One Act or the Bayanihan 3 to help the economy recover from the coronavirus disease (Covid-19) pandemic.
In a statement, Speaker Lord Allan Velasco said a total of 224 members from the House supermajority, minority, and independent blocs have joined him either as principal authors or co-authors of House Bill 8628, which he filed earlier this month.
"I want to thank my colleagues for rising above party-lines and for always keeping Filipinos first as we unite to provide much-needed help to households and businesses facing hardship as a result of the Covid-19 pandemic," Velasco said.
Under the bill, a PHP420-billion fund shall be allocated for the Covid-19 response, as well as recovery interventions grounded on economic inclusivity and collective growth.
It proposes to allocate PHP108 billion for additional social amelioration to impacted households, PHP100 billion for capacity-building for impacted sectors, PHP52 billion for wage subsidies, PHP70 billion for capacity-building for agricultural producers, PHP30 billion for internet allowances to students and teachers, PHP30 billion for assistance to displaced workers, PHP25 billion for Covid-19 treatment and vaccines, and PHP5 billion for the rehabilitation of areas impacted by recent floods and typhoons.
The bill also states that each household member will receive PHP1,000 regardless of their economic status. On top of this, a PHP1,000 allowance will be provided to each student and teacher and PHP8,000 for every displaced worker.
Velasco said the proposed law signifies the strong commitment of Congress to aid the Executive Department in its efforts to address the many problems the country is currently facing amid the pandemic.
"The 18th Congress, in its remaining legislative calendar, will carry out its duty to craft laws that will help our countrymen recover from this pandemic," he said. "We deemed it necessary to address all fronts in stimulating our economy back to health, and the Bayanihan 3 provides a holistic approach in addressing all our current woes."
The bill also allows advance payment not exceeding 50 percent of the contract amount for the procurement of Covid-19 drugs and vaccines, unless otherwise directed by the President.
The bill also seeks to form the Bayanihan Council, which shall be tasked with ensuring that interventions are well-targeted to intended beneficiaries and funds are disbursed properly and in a timely manner.
"Bayanihan 3 will give our economy a big boost. It will encourage spending among consumers and boost the confidence of MSMEs and other businesses. The bill, coupled with other timely and precise interventions, will help us recover faster from this pandemic," Velasco said. (PNA)