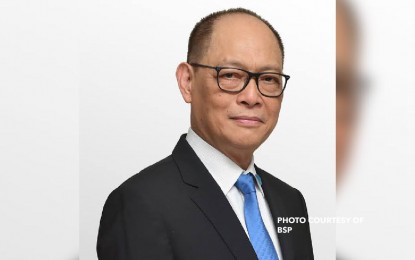 MANILA – Regulators are now getting stakeholders' insights for the draft implementing rules and regulations (IRR) of the Financial Institutions Strategic Transfer (FIST) Act, which has been prepared even before the measure was signed into law by President Rodrigo R. Duterte on Tuesday.
In a Viber message to journalists Tuesday night, Bangko Sentral ng Pilipinas (BSP) Governor Benjamin Diokno said "the draft IRR is already with SEC (Securities and Exchange Commission) (with inputs from BSP) as the lead agency."
"The said IRR is being circulated to the industry for comments," he said.
Republic Act 11523, an improved version of the special purpose vehicle (SPV) Act of 2002, allows financial institutions to tap asset management companies (ASMs ) to manage, operate, collect and dispose of impaired loans.
Diokno said signing into law the FIST measure "will help keep the banking system stable despite the effects of the Covid-19 (coronavirus disease 2019) pandemic."
"It will ease NPL (non-performing loan) ratios of banks moving forward. FIST is expected to reduce the NPL ratio by about 0.63 to 7.0 percentage point," he added.
Union Bank of the Philippines (Unionbank) chief mass market and financial inclusion executive Manuel Santiago is hopeful of invigorated lending activities among banks following the signing into law of the measure.
This, as bank lending growth remains soft despite the aggressive policy rate cuts of the BSP last year, which authorities point to financial institutions' cautiousness amid the pandemic.
Meanwhile, Santiago said Unionbank's lending activities remain robust.
"We looked at it as an opportunity to learn and test different strategies," he said in a virtual briefing Wednesday.
Santiago said it was a good thing that the bank started the massive information technology (IT) upgrade years before the pandemic as it allowed Unionbank to immediately offer products that can be accessed online and through digital means that are "very useful" especially when the government implemented movement restrictions to address the spread of Covid-19.
"This pandemic allowed us to roll out our products faster," he added. (PNA)