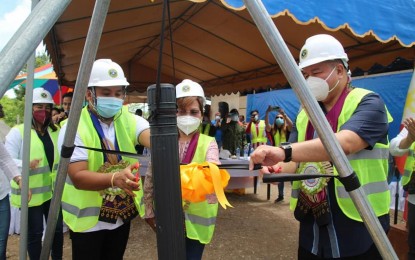 GENERAL SANTOS CITY – Development works have started for the PHP10 million temporary treatment and monitoring facility for coronavirus disease 2019 (Covid-19) patients in Maasim town, Sarangani province.
Officials of the Department of Health in Region 12 (DOH12) and the local governments of Maasim and Sarangani led on Tuesday the formal groundbreaking ceremony in Barangay Bales for the health facility, which is one of the six being constructed in the region.
Dr. Aristides Tan, DOH-12 director, said the project is part of the national government's continuing interventions to directly address the impact and contain the Covid-19 pandemic in the area.
Funded under Republic Act 11494 or the Bayanihan to Recover as One Act (Bayanihan 2), he said it is aimed to provide an adequate facility that will ensure the proper isolation of infected patients from their communities.
Tan said the 20-bed facility will serve as the primary monitoring treatment center for patients with moderate to severe symptoms of the disease.
He said they decided to establish it in Maasim to also cater patients from the neighboring Kiamba and Maitum towns.
"We're expecting its completion by June," he said during the ceremony.
Maasim Mayor Zyrex Pacquiao lauded the DOH-12 for choosing their municipality to host the health facility.
He said this will help them properly manage the area's Covid-19 cases, especially in the treatment of symptomatic patients.
Maasim was among the localities that were affected by the surge in locally transmitted cases last year but the situation in the area has since become manageable.
"We're very thankful that the province has been able to manage and control the spread of Covid-19 and we actually have zero cases here as of today," Pacquiao said.
Ruben Pelones, sanitary engineer of the Provincial Health Office, said they are currently crafting a development plan for the facility to ensure that it will be sustained once the pandemic is over.
DOH-12 has given the host local government units the option to later convert the treatment and monitoring centers into barangay health stations or utilize them for other related purposes.
The municipal government of Maasim is planning to tap the facility as an evacuation center, health station or site for medical missions and outreach activities.
The DOH-12 earlier received an allotment of PHP60 million under the Bayanihan 2 for the construction of the Covid-19 temporary monitoring and treatment centers.
The other projects are being constructed in this city, Koronadal City and in the provinces of Sultan Kudarat and North Cotabato. (PNA)