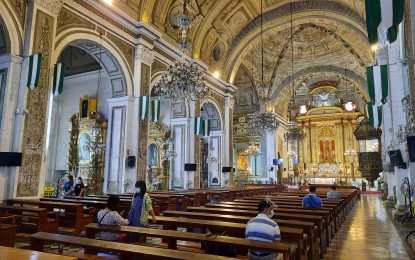 MANILA – The Intramuros Administration (IA) is preparing for the influx of visitors this coming Holy Week as the historical landmark officially opens to tourists on Feb. 17.
In a press conference, IA chief Guiller Asido said Intramuros is now in talks with stakeholders to craft additional measures for the Lenten season and the possible reopening of more churches inside.
"For the preparation for Holy Week, we are still discussing this with the local government unit and also the Catholic Church in terms of ensuring that we would be ready for the Holy Week," he told reporters.
Asido said they would identify first the carrying capacity for entire Intramuros at least for the duration of Lent, given its record-breaking 1 million visitors in 2019 when its nine churches and chapels were opened to the public.
"[On the reopening of the nine churches] that we will have to see because the nine churches are actually part and includes as well the universities so we will also have to check with them," he told reporters.
But other options are open as well, Asido said such as hosting an "online Visita Iglesia" for a safer observance of the Holy Week.
Intramuros reopened three of its most prominent landmarks on Feb. 17, namely the historic Fort Santiago, Casa Manila Museum, and the Baluarte de San Diego after the government eased restrictions for museum visits and tourist attractions in areas under general community quarantine.
Asido said the carrying capacity for these sites is lesser than the actual capacity before the pandemic. Before the pandemic, visitors at Fort Santiago alone averages 10,000 daily.
Ready and prepared
Citing months of preparation and closure to tourists, Tourism chief Bernadette Romulo-Puyat underscored that Intramuros is "ready and prepared" to welcome the public to its plazas, heritage sites, and museums.
"Intramuros is ready and prepared for its reopening following the easing of quarantine restrictions and the minimum health and safety standards set for parks, plazas, open spaces, heritage sites, and museums," she said.
"Covid-19 drastically changed people's relation with streets, public spaces, and public facilities. The pandemic illustrates the value for accessible open spaces abundant in Intramuros that allow movement within dense urban areas," she added.
Aside from museum visits and a walk inside the tranquil Fort Santiago, tourists can also rent Intramuros' famous "Bambike" or bamboo bike to stroll around the walled city for only PHP100 per hour on weekdays (walk-ins and reservation) and PHP200 per hour on weekends (via reservation).
Intramuros is also planning to host essential activities and events including work meetings, workshops, trainings, seminars, congresses, conferences, conventions, board meetings, colloquia, conclaves, symposia, and consumer trade shows or product launches with strict abeyance with the minimum public health requirements.
Visitors are required to register their visit on Staysafe.ph app before entering any Intramuros site for contact-tracing purposes. (PNA)